My Father's Bones Launches Yale Indigenous Performing Arts Program (YIPAP)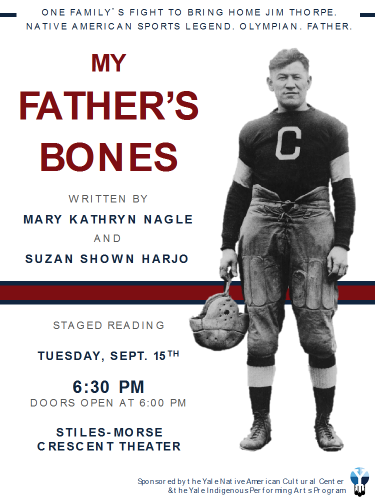 On September 15, 2015, the Yale Indigenous Performing Arts Program (YIPAP) commenced its inaugural year with a staged reading of My Father's Bones. This short play, co-written by Suzan Shown Harjo and Mary Kathryn Nagle, recounts the half-century struggle of Jack, Bill and Richard Thorpe to recover the remains of their father, Olympian Jim Thorpe in order for him to be buried with their relatives in Sac and Fox Nation land.
The thirty-minute play included a student cast of eight, drawn nearly entirely from the Native American Cultural Center community. "Commencing our inaugural year with My Father's Bones made for a tremendous opening," states YIPAP's Executive Director, Mary Kathryn Nagle. "The Native students here at Yale are incredibly talented, and their performance of this story was heartfelt and moving to all who witnessed it."  Held in the Crescent Underground Theater, the play was followed by a discussion with Harjo and Nagle and by a reception at the Native American Cultural Center.  On Wednesday, September 16th, at a widely attended noon panel, the Native American Law Student Association (NALSA) invited Harjo and Nagle to discuss further the legal challenges and statutes surrounding the Thorpe family's struggles. Yale Law School Professor Carol Rose moderated this discussion.
My Father's Bones was presented at Yale just weeks before the United States Supreme Court will decide whether to accept the petition for a writ of certiorari that the Sac and Fox Nation filed in June 2015, requesting the United States Supreme Court to hear their case, which has been making its way through the court system for several years.  At the heart of this case is the important civil rights law—the Native American Graves Protection and Repatriation Act (NAGPRA)—protecting the right of all Native Americans to be buried in accordance with their religious beliefs.
"This show is not only good, it's important," stated Yale student Madeleine Hutchins.  "Too often, when the population at large talks about Native Americans, the conversation never leaves the past tense. Having a contemporary issue presented in this way reminds people that we are still here and that there is unfinished business with our rights as peoples."
Background on the Effort to Bring Jim Thorpe Home:
For nearly six decades, the sons of American sports legend Jim Thorpe have been trying to return his remains to his birthplace – on the lands of the Sac and Fox Nation in Oklahoma – so he can finally be laid to rest in the homeland of his people, as he wished.
Jim Thorpe, given his Indian name Wa-tha-huk (Light after the Lightning or Bright Path) by the Thunder Clan of Black Hawk, was voted Greatest Athlete of the 20th Century in ABC's Wide World of Sports poll held in 2000, beating out other athletes including Muhammad Ali, Babe Ruth, Jack Nicklaus, and Michael Jordan. His remarkable accomplishments in the 1912 Olympics, winning gold medals in the decathlon and pentathlon, were matched by his skills in professional baseball (1913-19) and professional football (1917-29). In 1920, Jim Thorpe was selected as the first president of the American Professional Football Association, which became the National Football League in 1922, and he was an inaugural inductee of the Pro Football Hall of Fame. He would be inducted to 10 halls of fame by his career's close.
In 1953, in the middle of his traditional burial, Jim Thorpe's estranged third wife interrupted the sacred ceremony accompanied by police, seizing his remains. For nearly a year, his remains were driven around the country. Eventually, two small coal-mining towns in eastern Pennsylvania merged to form the Borough of Jim Thorpe, receiving Thorpe's remains and building a mausoleum to hold his body. Thorpe had never visited either town.
In 2013, three years after they first filed their case, a federal District Court agreed that the Pennsylvania borough could be classified as a "museum" under NAGPRA because the town's operations were subsidized by the federal government. However, in 2014 the Third Circuit Court of Appeals invoked the seldom-applied absurdity doctrine to overturn the District Court's decision – a ruling that even the Circuit Court acknowledged contradicts a reading of the law and raises significant separation of powers concerns.
For More See:
#BringJimThorpeHome and #MyFathersBones.