YGSNA and NACC Members Attend Pequot Museum Fundraiser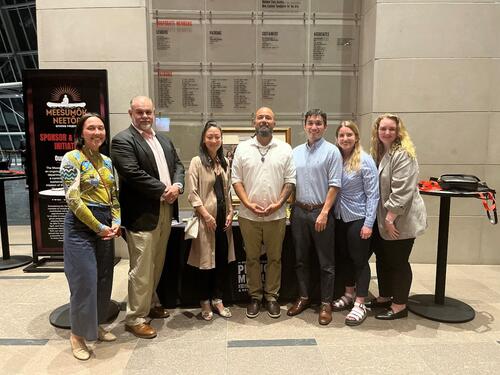 On August 11, Yale Native American Cultural Center students and community members attended the Mashantucket Pequot Museum's Three Sisters Community Fundraiser in celebration of the museum's 24th anniversary. The Three Sister's Community Fundraiser honored traditional Pequot teachings of the basket and the three sisters (corn, beans, and squash), which suggest that true strength is found in togetherness. The event featured opportunities to learn about the museum's public programs and fundraising efforts and included song and dance presentations as well as a silent auction. Kathryn Bussey, an attendee from Yale Law School, shared, "It was an honor to visit the Pequot Museum for the Three Sisters Community Fundraiser. After enjoying traditional foods, and celebrating the transmission of cultural knowledge, I hope to have the opportunity to return and explore the museum's exhibits and learn more about the Mashantucket Pequot Tribal Nation."
The museum and research center has hosted hundreds of thousands of students and visitors over its 23 years and continues its mission to strengthen Pequot culture and honor and serve tribal families and friends. The money raised by the event went towards new on-site and virtual outreach programs and exhibitions with a focus on developing curriculum content for the Connecticut school system. Such efforts follow recent Connecticut Board of Education mandates to include Native American history in curriculum.
As Yale Law student Kyle Ranieri relayed: "The Pequot Museum is an exemplar of tribal cultural sovereignty at work. Seeing it firsthand was inspiring." Students who attended the fundraiser also had the opportunity to meet the new director of the museum, Joshua Carter (centered in above photo). In 2019, Carter served on the Advisory Council on Native American Arts and Cultures at the Yale University Art Gallery, which brought 11 Indigenous curators, professors, and community members to help improve the collection and interpretation of Native art in Yale's collections.
As noted on the museum's website, the Pequot Museum has been tribally owned and operated since it opened in 1998. The museum brings to life the story of the Mashantucket Pequot Tribal Nation and serves as an important resource on the histories and cultures of tribes in the northeast. The museum is over 300,000 square-feet, and it consists of the permanent exhibits, a gallery for temporary exhibits, classrooms, an auditorium, a restaurant, a museum shop and administrative offices. The museum also houses a research center containing labs as well as various collections and archives. The natural and cultural history of the Pequot Tribe is displayed in multi-sensory dioramas, exhibits, films, interactive programs, archival materials, archaeological collections, commissioned art, and traditional crafts by Native artisans. One prominent feature of the museum is a life-size reconstruction of a Pequot village prior to contact with Europeans, which includes upwards of 50 life-size figures.
The Pequot Museum and Research Center is largest Native American museum in the world, and the museum reports hosting close to 250,000 visitors each year. The Three Sisters Community Fundraiser provided students and community members an opportunity to experience, support, and learn more about Native American culture relating to Pequot nations and Eastern Woodlands culture more broadly.