YGSNA and NACC Members Attend Historic Opening at Metropolitan Museum of Art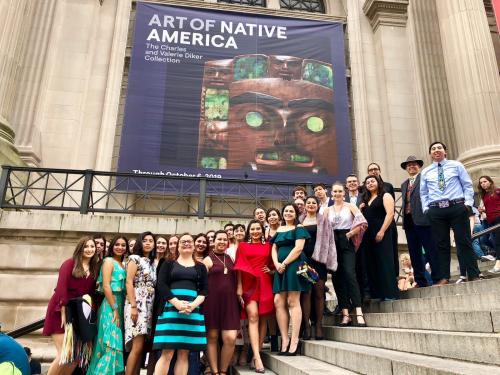 Over thirty Yale students arrived in New York City on October 2nd for an invitation-only preview of the "Art of Native America" at the Metropolitan Museum of Art. Joined by hundreds of Met employees, Native American Studies scholars, Native artists, and curators from across North America, this opening was an unprecedented gathering that celebrated the extraordinary collection of Charles and Valerie Diker as the first permanent exhibition of Native American Art in the museum's American Wing.
The opening was held outside the American Wing where neo-Federalist arcades welcome visitors to this half of the museum. The Met receives tens of thousands of guests daily. Those at the opening were welcomed by to a more intimate setting. The sound of the drum, for example, accompanied artist Ty Defoe (Oneida and Ojibwe) who danced, sang, and welcomed the gathering. According to one YGSNA member, the opening "provided the warmth of a familiar community," as music, Native-inspired foods, and welcoming words filtered throughout the evening. Performances, talks by legendary artist such as Robert Davidson (Haida and Tlingit), and welcomes from museum directors also highlighted the geographically expansive and culturally diverse forms of expression that the curators worked to reflect in the exhibition.
Donated by Charles and Valerie Diker, 116 masterworks of historic American Indian art are organized into seven categories that span centuries of creative production. Ranging from paintings to sculpture and from textiles to basketry, the Diker collection has been widely respected as one of the most important privately owned collections of Native American Art.  
Many natural history and ethnography museums display indigenous art in their exhibition halls, but art museums often do not or do so in concerning fashion. Many of the Yale faculty, students, and staff who attended the opening believe that America's most visited art gallery has long needed to recognize the importance of Native art, particularly within its narratives of American Art. Anjelica Gallegos (Santa Ana Pueblo/Jicarilla Apache; Arch '20), noted, for example, that the exhibit is "truly a momentous occasion for everyone involved. It recognizes that Native Americans have the longest connection to these lands and waters and it is shown through the objects and works of art that are in the collection."  Yale University students were also proud to see the voices of Indigenous artists, scholars, and intellectuals represented throughout the collection. Each of the seven regional text panels, for example, includes assessments from tribal scholars from each area and visuals from scholars and tribal leaders are also displayed on rotation in the exhibition's opening entryway.
The current works of art in the Diker collection will be on display for a decade followed by rotating exhibits designed to complement the collection. An advisory board continues to meet to ensure that the works continue to illuminate the evolving representations of Native peoples and the relationships to those around them. YGSNA Faculty Coordinator, Professor Ned Blackhawk (Western Shoshone) served on advisory committee and consulted with Met leaders about the format of the exhibition. He also wrote an article for the exhibition catalog entitled "The Radical Potential of America's Indigenous Art History."
For more see:
https://www.metmuseum.org/press/exhibitions/2016/diker-collection
https://yalebooks.yale.edu/book/9781588396624/art-native-america