Cold War Indigeneity in Science and Medicine" Brings Fields Together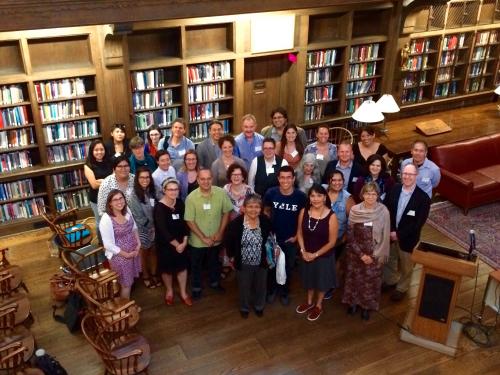 Over two dozen scholars working in the fields of Indigenous Studies and the History of Science and Medicine attended the YGSNA and Program in the History of Science and Medicine Conference, "Cold War Indigeneity in Science and Medicine," held at the Yale Medical History Library. Led by YGSNA faculty member Joanna Radin (History of Science and Medcine) the conference began with plenary presentations from Susan Lindee from the University of Pennsylvania and Kim TallBear from the University of Alberta, both of whom raised historic, ethical, and technological concerns regarding the role of science within Indigenous communities. Papers in this workshop further queried the increasingly recognized centrality of Indigenous peoples, lands, and resources to the global history of the Cold War. From atomic testing across Indigenous lands, to the extraction of genetic materials from Native peoples, and to the formation of state policies aimed at refashioning Indigenous educational practices, conference participants examined the global dimensions of scientific and medical inquiry and its legacies for Native American and Indigenous communities.
Several YGSNA graduate students presented aspects of their ongoing research. Hi'ilei Hobart from New York University and Adrianna Link from Johns Hopkins University served as conference discussants, framing each day's presentations and posing further lines of inquiry.
Dr. Patricia Nez Henderson, Vice President of the Black Hills Center for American Indian Health, provided a distinguished alumni address for the conference participants and the larger medical school community. The first Native American woman to graduate from Yale Medical School, Dr. Nez Henderson relayed her ongoing efforts at tobacco cessation among Native American reservation communities, illustrating its increasing distribution and consumption throughout the Cold War era. She discussed the many efforts that have brought legislative achievements within tribal communities, particularly among the Navajo Nation, her tribe. As she relayed, Navajo leaders have increasingly confronted the troubling use of tobacco consumption among their youth and have initiated legislative efforts to curb its use in tribal public spaces.
Following her presentation, Dr. Nez Henderson, her mother and family members, and conference participants attended a reception at the Native American Cultural Center where members of the Blue Feather Drum Group as well as the extended Native American Cultural Center Community welcomed them.