Tasce Bongiovanni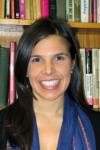 Postdoc Fellow Int Med Clinical Scholars
Address:
333 Cedar St, New Haven, CT 06510-3206
Tasce Bongiovanni is a Clinical Scholar with the Yale Robert Wood Johnson Foundation at the Yale School of Medicine. She received her medical degree from University of California, San Francisco, where she has completed three years of surgical residency before coming to Yale for her research fellowship.
She also received a Master in Public Policy from the Harvard Kennedy School of Government, where her thesis focused on control of tribal health care systems in Indian Country.  She is currently working on a number of projects, one of which aims to understand the cultural attitudes, beliefs and knowledge that affect organ donation in the Native community.