Naomi Sussman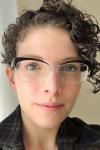 Originally from Claremont, California, I am currently a Latin American History PhD student at Yale.
In 2012 I graduated with History honors from Macalester College, where I studied with Ernesto Capello. Although I am training as a Latin Americanist, my work inhabits the crossroads between Latin American, U.S. Western, and Native American History.
My dissertation research anchors California's evolving romanticization of the 18th-19th century Spanish missions within indigenous communities' lived realities. Under Stuart Schwartz and Gil Joseph's guidance, this project will tentatively span from 1769 until the 1960s.