Christine DeLucia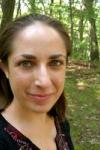 I am an historian at Mount Holyoke College, where I teach early American, indigenous, and environmental topics.
My research examines cultural landscapes of violence and memory in the aftermath of King Philip's War (1675-78).  This late 17th-century crisis transformed the physical and human landscapes of the American Northeast, destroying English colonial frontier settlements, and decimating or displacing diverse Native communities from their ancestral homelands.  Eastern Algonquian and Euro-American communities have been haunted by this war for centuries, and I consider how they have remembered, marked, and mapped the grounds of conflict—or struggled to forget.
Ranging from "deep time" to the present, my work brings together ethnography, material and visual culture, archival documentation, and the physical environment itself.  It uses this interdisciplinary approach to uncover colonial and indigenous geographies of trauma and resistance, and to identify persistent links between the making of history and the making of place.  Creation and preservation of place-sense, it finds, can be conservative tools of marginalization and erasure, but also means of protest, regeneration, and reconciliation.
My publications can be found in the Journal of American History, Studies in American Indian Literatures, Re-thinking History: The Journal of Theory and Practice, and Common-place.
Support for this project has come from organizations including the Council on Library and Information Resources, the Phillips Fund for Native American Research at the American Philosophical Society, the Newberry Library's Consortium in American Indian Studies, the American Antiquarian Society, the John Carter Brown Library, the Beinecke Rare Book & Manuscript Library at Yale, and the New England Regional Fellowship Consortium.
Contact
cdelucia@mtholyoke.edu
Education
Ph.D. in American Studies (2012), M.Phil. in American Studies (2010), M.A. in History (2009), Yale University
M.Litt. in Environmental History (2007), University of St Andrews, Scotland
A.B. in History and Literature (2006), Harvard College