YIPAP Presents Sliver of a Full Moon at UCSD in San Diego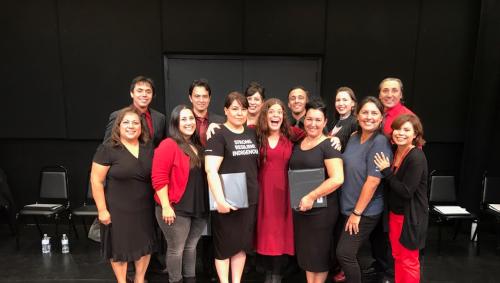 On November 2, 2017, the Yale Indigenous Performing Arts Program (YIPAP) presented Sliver of a Full Moon at the University of California San Diego ("UCSD") in partnership with the Autry Foundation (Native Voices at the Autry, the UCSD, and the Western History Association.
A nearly full audience of students, history professors, tribal leaders, survivors, and other members of tribal communities listened to stories from survivors of domestic violence and sexual assault from across Indian country.
Jackie Schaeffer (Inupiaq from the community of Kotzebue, Alaska) traveled all the way from Alaska to share her story of survival. "The experience of performing in Sliver of a Full Moon is such a powerful, emotional, healing one," Schaeffer later recounted. "This particular cast had dynamics and energy that were exceptionally connected. It was as if every ancestor was standing in our midst healing their wounds as well."
Schaeffer was joined by Billie Jo Rich (Eastern Band Cherokee) as well as other professional actors including RaeAnn Herrera, Kholan Studi, Jenny Marlowe, Jason Grasl, Billi Jo Rich, Allison Hicks, Mary Kathryn Nagle, Rob Vestal, Jackie Schaeffer, DeLanna Studi, Jennifer Bobiwash, Duane Minard, and Rainy Fields.
Following the performance of the play, the performers climbed a giant red chair
Allison Hicks (Prairie Band Potawatomi /Choctaw) portrayed the story of Lisa Brunner (White Earth Nation). "Sliver of a Full Moon is the most important play I've ever performed in," Allison Hicks shared. "It is such an honor to stand with these Survivors, these Warrior Women who have come forward to tell their heartbreaking stories in order to stop the Violence, and force Congress to act to allow our Tribal Nations to protect our women."
This marks the second performance of Sliver of a Full Moon that YIPAP has sponsored. One year ago, YIPAPsponsored Sliver in Alaska, during the annual Alaska Federation of Natives convening.
"We are honored to have hosted a production of Silver of a Full Moon in Southern California at  U.C. San Diego, in coordination with the Western History Association's annual conference, the Autry Museum of the American West and the Autry Foundation, and the Center for the Southwest at the University of New Mexico," stated Associate Professor Ross Frank (Department of Ethnic Studies, UCSD). "This Sliver brought an audience of professors from the WHA Conference, faculty, undergraduate and graduate students and staff from UCSD, tribal members and leaders, community members, and attendees US Navy 3rd Fleet's Multicultural Committee."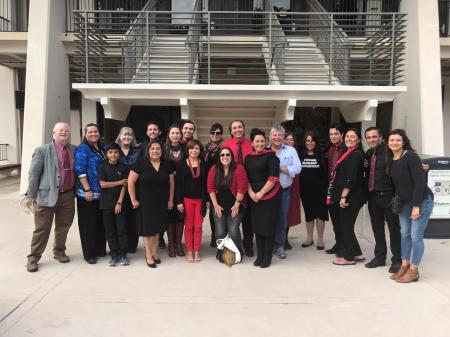 "We witnessed a magical symphony of strong voices telling the story of the VAWA reauthorization and demonstrating the legal quicksand that underlies the sustained assault on Indigenous sovereignty that is the structure of the U.S. nation-state," Frank continued. "Sliver of a Full Moon illuminates a path towards justice and asks all of us to find ways to groom and widen and path."
Sliver of a Full Moon is play by Cherokee playwright Mary Kathryn Nagle. The play recounts stories of survival of women from across Indian country and challenges the United States to restore the inherent criminal jurisdiction of Indian Nations that the U.S. Supreme Court erased in its 1978 decision in Oliphant v. Suquamish Indian Tribe.
Cast and Audience following the play at UCSD