YIPAP Director's Newest Play Fairly Traceable Reviewed in "American Theatre: A Publication of Theatre Communications Group"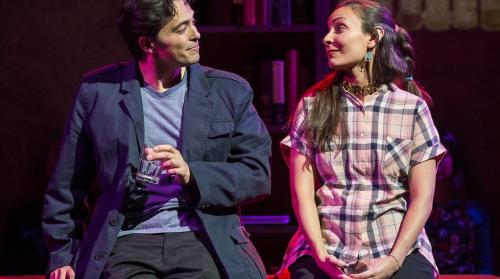 It's been a busy year for Mary Kathryn Nagle, the Executive Director of the Yale Indigenous Performing Arts Program (YIPAP). In addition to over-seeing YIPAP's continued growth on campus in 2016-2017—including the 2nd Annual Yale Young Native Storytelling Festival along with the Spring 2017 collaborations with the Cornwall School of Foreign Mission as well as Native Hawaiian descendants of Henry 'Opukaha'ia who studied and died in Connecticut—Nagle has drafted several new productions, including Fairly Traceable which debuted in the Native Voices Program at the Autry Museum of the American West. Like all of her works, this new production interweaves history and law with the lives of Native peoples struggling to find justice in America. Its her first production to be prominently reviewed in American Theatre.
Fairly Traceable follows a young citizen of the Ponca Tribe of Oklahoma, Randy, who opens the play as an environmental law professor at Tulane Law, the campus of which has had to move to Baton Rouge because New Orleans is now underwater. Randy falls in love with Erin Verdin, a citizen of the Point-au-Chien Tribe in the bayou, and the two struggle to juggle their career and personal ambitions as they fight for communities besieged by man-made climate change.
The title of Fairly Traceable refers to Justice Antonin Scalia's written opinion for the majority in the 1992 Supreme Court case Lujan v. Defenders of Wildlife, a high standard for the burden of proof which Nagle argues "has been used repeatedly by federal courts to prevent climate change victims from holding those who profit from environmental destruction accountable."
During the run of Fairly Traceable the theatre includes an art installation by Cannupa Hanska Luger (Mandan/Hidatsa/Arikara/Lakota) in the lobby. Extending back to the gold rushes that devastated so many American Indian communities, natural resource booms have created prosperity for some Americans but also extracted great costs from others, particularly Native communities. Even today, the rush to extract resources such as oil and solar has destroyed Native sacred sites and sparked protest from Native peoples. Luger's display contains examples of Mirror Shields, a concept developed by Luger during the recent Dakota Access Pipeline protests. Designed to symbolically and physically defend the "water protectors," the shields also encourage reflection on the costs of transporting fossil fuel resources across the lands and waters of the nation.
Such themes of environmental justice and injustice have become particularly present in recent Native movements for social justice. As American Theatre notes, "Although Fairly Traceable was first written in 2013, Nagle said events like the pipeline protest and Donald Trump's presidency (including his support for the pipeline) have only amplified the messages of the play—one of which is the importance of Native voices in the climate conversation."
Fairly Traceable runs through March 26, with performances Thurs., March 23, Fri., March 24, and Sat., March 25 at 8 pm, and Sat., March 25 and Sun., March 26 at 2 pm. The Wells Fargo Theater is located at the Autry Museum of the American West, 4700 Western Heritage Way, Los Angeles 90027, within the grounds of Griffith Park. For reservations and additional information, call 323.495.4354 or visit TheAutry.org/NativeVoices
See more at: