YIPAP Commemorates 200th Anniversary of Cornwall Mission School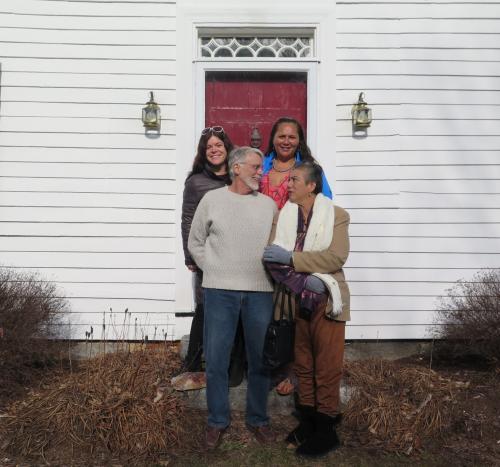 Cornwall, Connecticut:  On June 17 and 18, 2017, the Yale Indigenous Performing Arts Program (YIPAP), alongside the residents of Cornwall, Connecticut, will commemorate the 200thanniversary of the Cornwall Foreign Mission School. Just this past autumn, the Department of Interior placed the Foreign Mission School and specifically the former home of the School's Steward, on the National Historic Landmark list. In response, Kauanoe Hoomanawanui (descendant of former FMS student Henry Ōpūkaha'ia) and Mary Kathryn Nagle (descendant of former FMS student John Ridge) in conjunction with Cornwall residents Ben Gray and Amy Johnson, along with Cornwall Historical Society and The United Church of Christ Congregational in Cornwall to ensure that the story of one of the United States' first boarding schools is not forgotten.
The goal of this bicentennial celebration is to foster community dialog and respect for intercultural relationships and an understanding of our collective history. The two-day event will include tours of the house and the village; a presentation on Native American History in Northwestern Connecticut by Lucianne Lavin, Director of The Institute of American Indian Studies, Washington, CT; as well as a colloquium of five experts on the FMS entitled "200 Years of Lessons: The Foreign Mission School in Cornwall." The Historical Society panel will feature Ryan Bachman, Historian; Nicholas Bellantoni, Professor, Connecticut State University and Former State Archeologist of Connecticut; Kauanoe M Hoomanawanui, State of Hawaii Burial Site Specialist; Mary Kathryn Nagle, Executive Director, Yale Indigenous Performing Arts Program; and Karen Sanchez-Eppler, Professor, Amherst College.
"This bicentennial celebration symbolizes Opukahaia and his hard labor and devotion to the American Foreign Mission," states Kauanoe Hoomanawanui (descendant of former FMS student Henry Ōpūkaha'ia). "For us in Hawaii, the only remnants we have lay in this home and the Hawaii Mission. In March 1820, two-hundred years ago, the Hawaii Mission came back home to Hawaii without Henry Opukahaia. Leaving only a legacy of righteousness through descendants like myself who breathe, eat, and sleep his pursuit of knowledge. KeAkua Pu!"
A highlight of the celebration will be the theatrical performance by the Yale Indigenous Performing Arts Program on Saturday June 17 at 3:00pm. Created by Mary Kathryn Nagle, the performance is based on the story of her grandfather and grandmother met at the FMS. The performance will tell the remarkable story of how John Ridge, the son of the President of the Cherokee Nation Tribal Council, falls in love with a local Cornwall girl, Sarah Bird Northrup, the daughter of the School's Steward. From their relationship, racial tensions mount, causing a rift in town and throughout New England. Their marriage was eventually allowed to proceed and was supported by both sets of parents. This history is important for many reasons as it deals with the relationship between individuals of different nations and the struggle to attain what others say is unattainable, togetherness and happiness across "racial" lines.
"Returning to Cornwall for the 200th anniversary of the school's opening is incredibly significant to me and my family," states Mary Kathryn Nagle, descendent of John Ridge and Cherokee Nation citizen. "I grew up hearing the stories about when my grandfather John Ridge married Sarah Bird Northrup, the town of Cornwall called him a savage, threw rocks at him, and threatened to kill him. My family's story of Cornwall has always been traumatic. But when I returned last January to begin planning for our June commemoration, I encountered a town that welcomed me and our students from Yale, as well as Henry Ōpūkaha'ia's descendants. The descendants of individuals who acted with violence and prejudice against my great-great-great grandfather embraced me and who I am, as a Ridge descendant. It was incredibly healing. The legacies of Indian boarding schools in this country carry with them a very troubled past. This school is no different. It is my hope that through our collective performance and storytelling, we can help to heal some of the wounds of our shared past."
Together, the Cornwall Historical Society, the United Church of Christ Congregational in Cornwall, Mary Kathryn Nagle, Kauanoe Hoomanawanui, Ben Gray, Amy Johnson, and Ann Schillinger are inviting all descendants of all former FMS students to join them in Cornwall on June 17 and 18, 2017.
The FMS was the first foreign mission school in the United States, in existence from 1817-1826. The FMS was founded to educate young indigenous scholars from Native American Tribes alongside students all over the world; Hawaiians, Chinese, Marquesans, Greeks, Jews, Malays, Tahitians, Bengalese, Hindu, Javanese, New Zealanders, Portuguese, Scottish and European American students all attended the school. In total, over 100 students attended the school and 24 languages were spoken. At the time of its inception in 1817, the goal of the school was to convert students to Christianity and educate them to spread Protestant Christian values, particularly to promote the U.S. national identity in the Asia-Pacific, specifically in Hawaii, an arena of imperial competition at the time. It was hoped the students would become preachers, healthcare workers, translators and teachers amongst their respective peoples.
Fourteen American Indian Nations were represented in the student body, including one Abenaki, eleven Cherokees, five Choctaws, five Delawares, one Mexican of indigenous descent, one Mohegan, one Narragansett, two Ojibwas, two Omahas, three Oneidas, three Osages, two Senecas, two Tuscaroras and four Stockbridges.
This past year, one of the few buildings surviving from the FMS, the Steward's House, was designated a National Historic Landmark by the National Park Service (NPS). The designation is recognition that the school maintains "enduring educational and social politics concerning racial tolerance, Asian and Native American migration, and American religious and cultural identity in the early nineteenth-century" (NPS). The designation was secured thanks to the hard work of a number of individuals including students from Brown University under Professor Dr. Caroline Frank, the house owner, Ben Gray Sr., and his partner Amy Johnson, as well as FMS descendants.
For more information about the weekend's festivities and a complete schedule of events, please contact Mary Kathryn Nagle.