YIPAP Announces First Annual Playwriting Contest Winners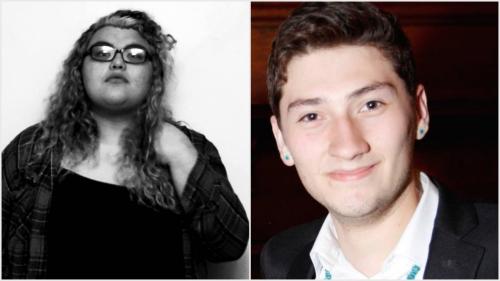 Title:
The Yale Indigenous Performing Arts Program (YIPAP) is proud to announce the first two winners of YIPAP's inaugural Playwriting Contest.  The YIPAP Playwriting Contest garnered a large number of submissions in its first year.  The contest was open to any Native playwright aged twenty-five or younger.
Finishing in first place this year is Reed Adair Bobroff's (Navajo) play A Fraction of Love, an exploration of love and identity in Indian country.  "Writing this play gave me the opportunity to tell a Native love story, which isn't as simple as two people falling for each other," Bobroff shared with YIPAP.  "The influence of colonization has contributed to an intense pressure in Native communities to continue our legacies through marriage and having children that is rooted in how Tribal Nations define membership.  I drew from the experiences I've had in Navajo communities to examine what it can mean to be Native and how it affects the ways we fall in love."
"We are thrilled to herald A Fraction of Love as the Contest's first winner," stated YIPAP's Executive Director, Mary Kathryn Nagle.  "Reed is an incredibly talented writer and his play touches on questions and issues surrounding identity that should, and must, be discussed.  For far too long American theaters have only produced non-Native commentaries on Native identity.  We are thrilled to work with an emerging, powerful Native playwright whose voice demands a space on the American stage."
Reed Adair Bobroff (Navajo) is a poet, playwright, and performer from Albuquerque, New Mexico.  As a spoken word artist, he has shared his work at the Los Angeles Theater Center, the Nuyorican Poets Café, the National Museum of the American Indian, and has been featured on HBO's Brave New Voices.  He began playwriting while studying theater at Yale University. Reed is the founder of Spoken Roots, an organization that teaches writing and performance in Native communities as a tool for identity development and community healing.
The runner-up of this year's inaugural contest is The Crickets Ate the Moon, by Charli Fool Bear-Vetter (Yanktonai).  The Crickets Ate the Moon follows the journey of a young woman who must balance the development of her voice and talent as a theater artist with the need to assist her family as they struggle to deal with the loss of her younger brother.  "Fool Bear-Vetter's voice and rhythm invite the audience into her story in a compelling and profound way," stated Nagle.  "Her protagonist grapples with issues that many young women face today in Indian country, and as such, her play will resonate with a group of women who hardly ever get to hear their own stories staged.  We are very excited to work with such a talented playwright and look forward to watching her play, and career, expand and thrive."
"I wrote The Crickets Ate the Moon because I wanted to create something about mental illness (particularly relating to Native women) that didn't send the message that recovery and happiness only comes with curing or ignoring those illnesses," explained playwright Charli Fool Bear-Vetter.  "I wanted to write the story of a girl who never gets rid of her depression, but is okay. I also wanted to make something a little scary; a reminder that those we love can easily be in a terrifying state of mind and that we must destroy the negative stigma attached to mental illness and mental health care before it is too late.  This play was something like a love letter to not only myself, but to anyone who is affected by the issues addressed in it; a reminder that we are not alone, that things will be hard, and that we will be okay."
Charli Fool Bear-Vetter (Yanktonai) is an enrolled member of the Standing Rock Sioux Tribe and grew up in Porcupine, ND on the Standing Rock Reservation.  She is currently studying theater at Dartmouth College, where she has participated in several productions as both a writer and an actor.  When she's not in the theater department or working on a show in some capacity, she can be found singing with the Dartmouth Rockapellas (an all-female a cappella group dedicated to social justice), making music with her band Humor the Ruse, or spending time with fellow NADs (Native Americans at Dartmouth).
Both playwrights will be present at Yale from April 14-16 for a workshop development of their work.  They will have the opportunity to work with nationally acclaimed director Madeline Sayet (Mohegan).  Sayet is a TED Fellow, a recipient of The White House Champion of Change Award, a National Arts Strategies Creative Community Fellow, a Van Lier Directing Fellow at Second Stage, and the Resident Director at Amerinda (American Indian Artists) Inc.  Other credits include: Recent Directing: The Magic Flute (Glimmerglass), Macbeth (NYC Parks), Daughters of Leda (IRT), Powwow Highway (HERE), Sliver of a Full Moon (Various), Miss Lead (59e59), The Tempest (Brooklyn Lyceum/Sylvester Manor). Upcoming: Poppea (Illinois), Winter's Tale (HERE). BFA Theatre, MA Arts Politics NYU. PHD Candidate Shakespeare & Creativity, The Shakespeare Institute. www.madelinesayet.com
Following the workshop, both plays will be presented in a staged reading open to the public.
A Fraction of Love, by Reed Adair Bobroff, directed by Madeline Sayet, will be presented on Friday, April 15 at 6:30pm in the Jonathan Edwards College Theater (68 High Street, New Haven, Connecticut).  No reservations are necessary and admission is free. 
The Crickets Ate the Moon, by Charli Fool Bear-Vetter, directed by Madeline Sayet, will be presented on Saturday, April 16 at 6:30pm in the Jonathan Edwards College Theater (68 High Street, New Haven, Connecticut).  No reservations are necessary and admission is free. 
"YIPAP is thrilled to commence its annual playwriting contest with two powerful, important, and unique Native voices whose stories deserve, and demand, a place on the American stage," stated Executive Director Nagle.
"The Yale Native American Cultural Center and the Yale Indigenous Performing Arts Program are both committed to promoting Native art and culture on Yale's campus," added Dean Kelly Fayard.  "As such, it is important now, more than ever, to have indigenous voices on stage. The Yale Indigenous Performing Arts Program's playwriting contest is a way to help support young Native playwrights in their craft, but on the larger stage, it will help make sure that Native characters are written by Native people.  This is important because we will be able to see our mothers, brothers, fathers, aunts, uncles, friends, and cousins in the characters presented…and not just a caricature of an Indian."