YGSNA & YNAAC Explore Curatorial Practices in Ottawa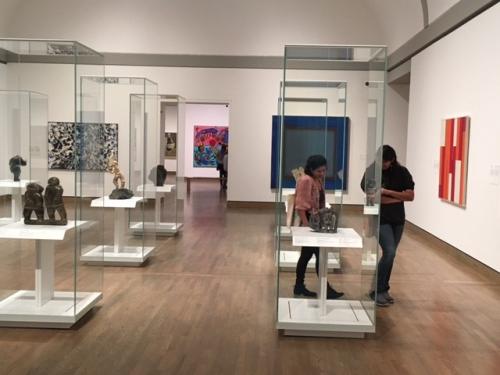 During October's Fall Break, eight members of the Yale Native American Arts Council (YNACC) and Yale Group for the Study of Native America (YGSNA) traveled to Montréal and Ottawa to explore the curatorail practices and representation of Native arts within contemporary Canadian museum and universities.
Hosted by Carleton University Professor of Art History Ruth Phillips, this exploration toured the National Gallery of Canada, the Canadian Museum of History, the Montréal Museum of Fine Arts, as well as the First Nations Arts exhibition, "Always Vessels," at the Carleton University Art Museum, which was curated by Alexandra Kahsenni:io Nahwegahbow (Mohawk).
YNAAC, YGSNA, and the Native American Cultural Center members have worked for many years to raise awareness about contemporary Native American and Indigenous arts at Yale, hosting numerous artists, curators, and scholars working within and across this growing field of study. Several courses have also been taught in the area, drawing increasing numbers of interested students and intersecting with broader NACC as well as campus programming.
Traveling to Ottawa and Montréal, YNAAC members gauged and debated the growing prominence of Native arts in another national community. The trip exposed how national as well as academic institutions have made growing institutional commitments to the visual and creative expressions of Native peoples within contemporary Canadian society.
As Yale College Junior Joseph Zordan (Ojibwe), for example, noted: "YNAAC's recent trip to Canada proved to be an incredibly fruitful and worthwhile trip that allowed for excellent opportunities on personal, cultural, and professional levels. As a student curator working on the upcoming exhibition of Native Art for the Yale University Art Gallery (YUAG), I was able to see how current museum professionals in Canada display and interpret Native North American art in a historical, art historical, and national contexts. This is something that I, and my fellow curators, have kept in mind when developing our own work for the YUAG. This was also an opportunity to see my own culture, from which I am far removed, as Anishinaabe. The presence and visual space that Anishinaabe and other Native North American groups occupy within the cultural spaces of Canada, especially that of Ottawa, was a remarkable experience that brought a feeling of home away from home. I am incredibly happy with the outcomes and the takeaways from our many meetings with scholars, students, and curators during this trip and am incredibly thankful for this trip."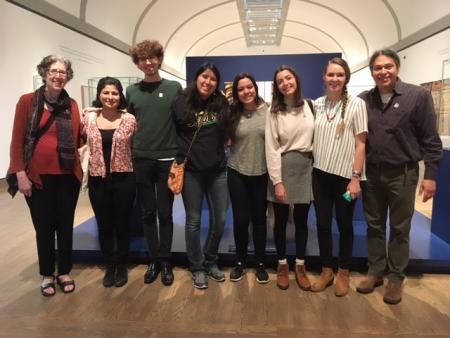 Other YNACC Members expressed similar insights. Yale College Senior Leah Shrestinian relayed: "As a student co-curator working on an exhibition of Native North American art for the Yale University Art Gallery, I found the YNAAC trip to Ottawa and Montreal incredibly helpful and inspiring. In the National Gallery of Canada, we were able to see how the curators had reinstalled the Canadian and Indigenous Art galleries to center First Nations, Inuit, and Métis art. Seeing this installation, particularly its integration of contemporary and historic art, its use of Indigenous languages, and its work with advisory boards, showed us how other curators are coming up with creative ways to display Indigenous art and work with Indigenous communities. In the Museum of Fine Arts, we saw Kent Monkman works that are in direct conversation with objects at the YUAG, which helped us think critically about the context of our exhibition and prompted ideas on how to incorporate Native art in the American Paintings and Sculpture galleries. The trip was essential for the progress of our exhibition, and I know the experiences we had in Ottawa and Montreal will continue to inspire us as we move forward with the project."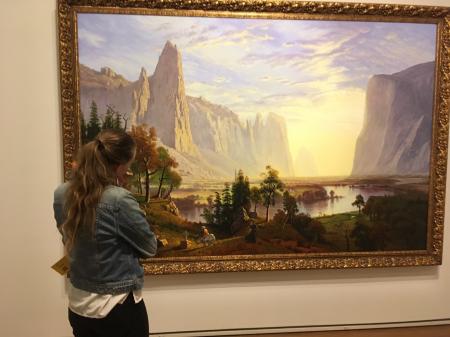 YNACC President and Yale College Senior Katie McCleary (Little Shell Chippewa): "Hearing from First Nations curators and discussing the presentation of Native art in Canada gave me insight into different Indigenous curatorial techniques that will be useful when designing our exhibit at the Yale University Art Gallery. The trip gave me an opportunity to learn more about First Nations artists, see exciting presentations of Native art, and learn new Indigenous curatorial techniques. In addition to visiting Native art exhibitions in Canada we also had the opportunity to watch First Nations comedian Ryan McMahon perform at the Canadian Museum of History. Watching an Indigenous person use humor to critique Canadian Native policies on stage was a thrilling and healing experience."