YGSNA Members Work to Showcase and Expand YUAG's Native Arts Collection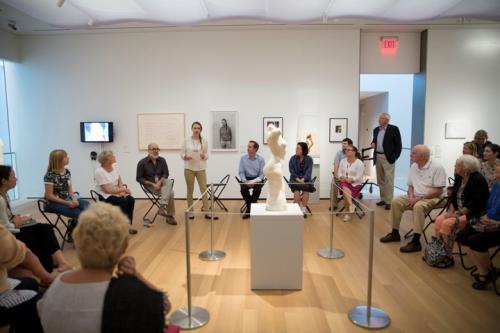 On September 7, the Yale University Art Gallery hosted a roundtable conversation to discuss Native American representation and visibility in the Gallery's collection and programming.  About thirty people attended, including members of Yale's Native community, Gallery staff, and members of the general public. This event occurred in tandem with the Native American Arts Initiative (NAAI), which supported two summer interns to study issues of Native representation at the Gallery. YGSNA Member Sequoia Miller served as the graduate mentor for the NAAI interns and is a doctoral candidate in History of Art. This internship focused on current Native representation at the Gallery and was held by Katie McCleary and Leah Shrestinian who made a series of recommendations about Yale's museum community and its relationships in exhibiting, curating, and acquiring Native arts.
As this event highlighted, Native visibility in the Art Gallery is an ongoing area of concern in both collections and programming.  The Gallery's collection contains a modest number of Native-made works including both historical objects, such as Algonquin pottery on view in the American Decorative Arts galleries, as well as more recent prints and drawings by Fritz Scholder and Rick Bartow, two well known twentieth-century Native artists. The Gallery also borrows a small number of historical works from the Yale Peabody Museum, an area in which there is interest in expansion.
A group of Rick Bartow's drawings, curated by Miller and YGSNA member Anya Montiel, has been on view in the Levin Study Gallery since June. This installation has been significant, in that the works had previously been seen only rarely, and Bartow, recently deceased, was a leader in the vibrant field of contemporary Native art.
The Gallery's collection also contains objects that depict Native Americans, such as prints by George Catlin, the Edmund C. Coates painting Indians Playing Lacrosse on the Ice, and late-nineteenth century art pottery by Rookwood. These representations, the roundtable made clear, are often problematic. Interpretive materials such as wall texts can contextualize such works, but there has yet to be a more comprehensive approach to understanding artworks by or depicting Native Americans at the Gallery.
The NAAI internships were a first step in identifying ways that the Art Gallery can better serve the Native community both at Yale and in the surrounding area. Yale undergraduates Katie McCleary and Leah Shrestinian worked full-time at the Gallery and the Yale Peabody Museum to identify ways that both institutions can present, interpret, and expand their collections of Native material. Katie and Leah visited multiple peer institutions, including the Harvard Art Museums, Denver Art Museum, and the Buffalo Bill Center for the West, as well as communicated with curators of Native art to inform them of best practices in the field.
At the roundtable, McCleary summarized the principle recommendations to come out of the work of the NAAI internship. First, she suggested that the Gallery form an advisory council to build relationships with the NACC, Yale's broader indigenous community, and local tribes. Such a council could advise on best practices when installing and interpreting Native objects, as well as provide a voice in programming to encourage Native students and community members to feel more invested in the museum. A second recommendation was to actively collect contemporary Native art. Artists like James Luna and Wendy Red Star are widely recognized for their artworks that weave together questions of indigenous identity, contemporary politics, and visual and popular culture. Actively collecting contemporary Native art would increase Native visibility in the museum, while also potentially animating the historical collections. Jock Reynolds, Henry J. Heinz II Director of the Art Gallery, attended the roundtable and expressed support for this idea.
The roundtable also included questions directed to the several Gallery curators present. These questions largely centered on strategies the curators have adopted in the past with Native art and audiences, and what steps they may take moving forward. While the curators were open to engaging in the conversation, questions remainded about how best to incorporate Native perspectives. For example, the current exhibition Yosemite considers depictions of the American west, but misses several opportunities to incorporate Native points of view.
The Bartow installation, NAAI internship, and the roundtable have generated momentum toward building stronger relationships between the Native community and the Art Gallery. Following the roundtable, Katie and Leah presented a detailed summary of their work to a large group of Gallery staff. Currently, Katie is working with Chief Curator Laurence Kanter on approaches to acquiring and installing Native art at the Gallery. As graduate mentor and collaborator with Montiel, Miller conveyed his appreciation in leveraging his experiences with the Gallery to work toward increasing Native visibility and input into their program. Moving forward, all expressed hope that avenues of communication, trust, and engagement can further increase Native involvement in the visual arts at Yale.