YGSNA Members Lead Pequot Museum Tour with Society of Historians of the Early American Republic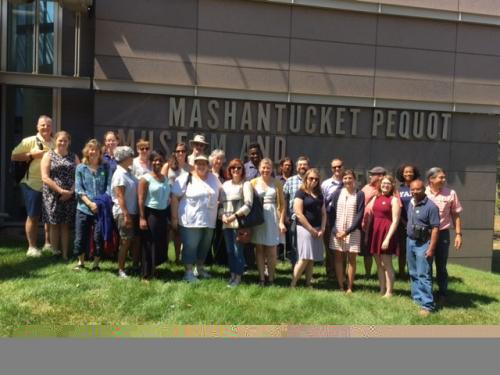 On Thursday, July 21st founding YGSNA member Dr. Michael Kral (Wayne State U.) and YGSNA faculty coordinator Ned Blackhawk (History and American Studies) joined the Society of Historians of the Early American Republic (SHEAR) for a day-long tour of the Mashantucket Pequot Museum. Organized as the first event of the 38th annual meeting of SHEAR, the tour included nearly two dozen SHEAR members along with ten teachers participating in Professor Blackhawk's "Contemporary American Indian History" seminar run by the Yale National Initiative (YNI).
The combined groups toured the permanent exhibitions of the museum and ate at the Museum's recently expanded Pequot Café where they were joined by Chef Sherry Pocknett who explained the varieties of local, Indigenous foods used in her cooking. As the Museum's website relays:
The Pequot Café offers a seasonal menu including traditional and contemporary Native American selections and is located atop a balcony overlooking an ancient cedar forest through our breathtaking, glass-enclosed Gathering Space. Sherry Pocknett is chef at the Pequot Museum where she skillfully unites Native culture and cuisine with family-friendly dining. A descendant of the Mashpee Wampanoags who first welcomed English settlers nearly 400 years ago, Chef Pocknett started her first food stand at age 13, owned and operated the extremely successful Sly Fox's Den Catering business for 20 years and today her dishes are revered by a loyal following.
Participants also visited the Museum's many film theaters where specially designed films highlight various chapters of Pequot history. Numerous participants found the film Witness particularly moving and educational. It chronicles the 1636-1637 Puritan invasion of Pequot lands and culminates with the events from April-May of 1637 that led to the Mystic River Pequot Massacre.
Numerous YGSNA members have both visited the Museum since its founding in 1998 and organized various tours and/or events at this extensive, remarkable facility.
For More See:
http://www.shear.org/wp-content/uploads/2016/07/New-Haven-2016-program-online.pdf