YGSNA Members Lead Peabody Summer Institute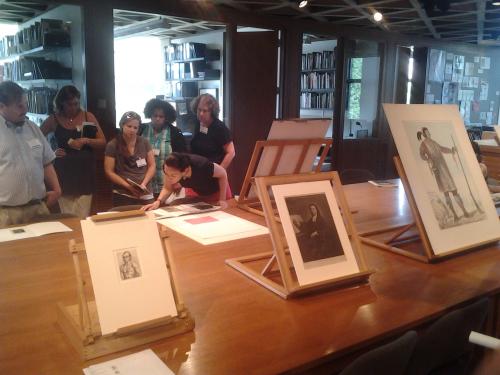 For the third consecutive summer, Yale's Peabody Museum held an institute designed for high school teachers to learn more about the hemisphere's Native peoples. This year's institute brought more than three dozen guests to campus as part of this year's conference theme, "The Indigenous Atlantic: Encounters, Exchanges, and Endurance." Coordinated by YGSNA member, Anya Montiel (American Studies), and assisted by Andrew Epstein (History), the program featured scholars from across the Northeast as well as the National Museum of the American Indian. Teachers came from as far away as California.
Tours and sessions introduced teachers to Yale's expansive holdings on Native American arts, history, archaeology, and literature and examined various ways of using such materials for pedagogical and classroom instruction. Professor Jace Weaver provided the keynote address at Yale's West Campus conference facilities, expanding on the themes of his November presentation at the "Indigenous Enslavement and Incarceration" conference and autographing copies of his new book, The Red Atlantic. Tours of the Peabody Museum, the Yale University Art Gallery, the Beinecke Library, and the Native American Cultural Center also exposed participants to Yale's growing sets of resources for Native American Studies and students. University librarians and museum curators discussed the many ways that high school students and teachers currently use the University's facilities as well as answered questions.
Current as well as former YGSNA members Rachel Purvis, Christine DeLucia, Paul Grant-Costa, and Tobias Glaza participated in a range of sessions, while other YGSNA members and NACC undergraduates attended the conference presentations, social gatherings, and lunch and dinner receptions.
For more information click here