YGSNA Members Join John Carter Brown Library Initiative in Indigenous Studies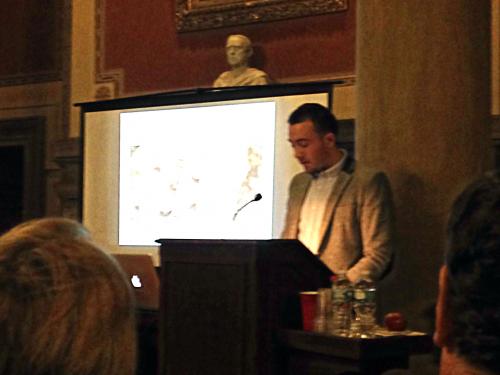 On this year's Indigenous Peoples' Day, several former and current YGSNA members spent the evening and subsequent afternoon joining efforts to build Indigenous Studies at the John Carter Brown (JCB) Library in Providence, Rhode Island. Located on the central campus of Brown University, the JCB holds one of the world's leading collections of bibliographic materials related to the Americas. Its fellowship, conference, and professional programs attract scholars from across the globe, and JCB leaders have recently articulated new Indigenous Studies commitments designed to expand current programming and opportunities in Native American and Indigenous Studies.
Brown University graduate and current YGSNA member, Tyler Rogers (American Studies) helped to welcome the evening gathering and shared his experiences as a member of Native Americans at Brown (NAB) in helping to end the observance of Columbus Day at Brown. YGSNA Faculty Coordinator, Ned Blackhawk, provided the inaugural lecture in the anticipated annual lecture series in Indigenous Studies. Former YGSNA members Christine DeLucia (Mt. Holyoke) and Josh Reid (UMass-Boston) participated in a planning meeting with JCB leaders about potential initiatives and joined an afternoon roundtable about the growing applications of the JCB's collections to Indigenous Studies. Archivists shared seventeenth and eighteenth-century materials from their holdings in conjunction with each roundtable participant's presentations, including some of the earliest printed materials in North American Indigenous languages. Such materials are a part of the JCB's collections of Native languages, some of which include single-page vocabulary lists, grammatical studies, dictionaries, speeches, dramatic dialogues, scriptural excerpts, catechisms, and other religious texts.