YGSNA Members Attend Pequot Museum Reopening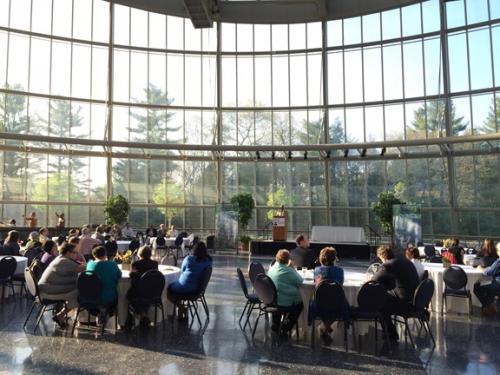 After several months of renovation and administrative reorganization, the Mashantucket Pequot Museum & Research Center held an exclusive early May re-opening and dedication ceremony for invited national and regional community leaders, scholars, and tribal members. Current and former YGSNA members, including Professor Birgit Brander Rasmussen, Tyler Rogers, and Professor Christine DeLucia, joined several dozen colleagues gathered from across the Northeast to learn more of the museum's expansive new programming and of its continued commitments to research and inter-institutional collaboration.
Pequot leaders, including Chair Rodney Butler, welcomed the gathering, as did national Indian leaders, such as Narragansett Tribal Councilman Randy Noka, who also serves as Vice President of the National Congress of the American Indian Executive Board. Newly appointed museum director Jason Mancini shared the museum's recent developments. New and expanded emphases on sustainability, for example, include the museum's newly opened Pequot Café which provides local and Indigenous vendors opportunities to enjoy Indigenous foods and culinary items. Continued pedagogical and youth-orientated programming features the construction of a traditional dugout canoe from a single 36-foot tulip tree. Ongoing research projects include the nationally funded archaeological research into the aftermath of the Pequot War of 1636-1637. Professor Kevin McBride from the University of Connecticut highlighted numerous items found across the region following the Mystic Massacre, including domestic objects from fleeing Pequot family members as well as metal and military items from pursuing Puritan militia forces. (see photo below)
Held in advance of the Museum's public re-opening on May 15th and May 16th, the Pequot Museum remains the largest tribal museum in America. Established in 1998, it is owned and operated by that Mashantucket Pequot and includes interactive exhibits, theaters, a library and special collections, an archaeology laboratory, and a 185-ft observation tower overlooking southeastern Connecticut, among other attractions. YGSNA members have worked with museum leaders for much of its existence, touring the museum with students and classes, co-hosting events, attending museum conferences, researching in the museum's library and laboratory facilities, as well as discussing future collaborations of various kinds.
Links: