YGSNA Continues Collaborations with NYU and Columbia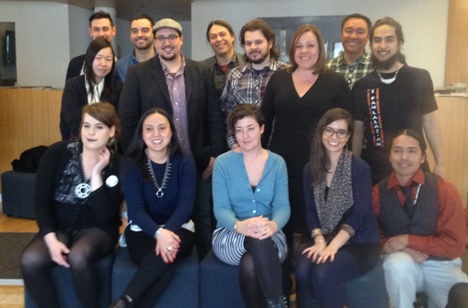 For the second time in six months, YGSNA members traveled to New York University to participate in a jointly organized NYU and Columbia event. Hosted at NYU's Department of Social and Cultural Analysis and co-sponsored by the NYU Native Studies Forum, the one-day graduate student conference, "Differential Sovereignties," included twelve graduate student papers, a multi-media presentation on contemporary Indigenous food sovereignty efforts, and sets of faculty commentaries. YGSNA faculty coordinator Ned Blackhawk was joined by Audra Simpson (Columbia), Dean Saranillio (NYU), and Doug Kiel (Williams College) as faculty commentators and participants.
Convened and organized by NYU and Columbia graduate students, papers came from a range of NYU and Columbia doctoral programs, including anthropology, art history, history, performance studies, and food studies. All interrogated the conference theme of "differential sovereignties," addressing Central American, Canadian, and U.S. Native communal struggles for increased cultural, political, and economic sovereignty. Robust attention to the overlapping, ambiguous, as well as competing forms of sovereign authority characterized these collective conversations, many of which built upon pre-existing graduate student courses as well as networks forged between these respective campus communities. Columbia, for example, supported the conference through its Center for the Study of Ethnicity and Race as well as its Collaborations on Indigenous Studies Project.
In September, YGSNA, NYU, and Columbia co-convened the teach-in on "Genocide Denial in North American Popular Culture," an event that followed the first day of the UN's World Conference on Indigenous Peoples.