YGSNA Co-Hosts Brown University Scholars of Native America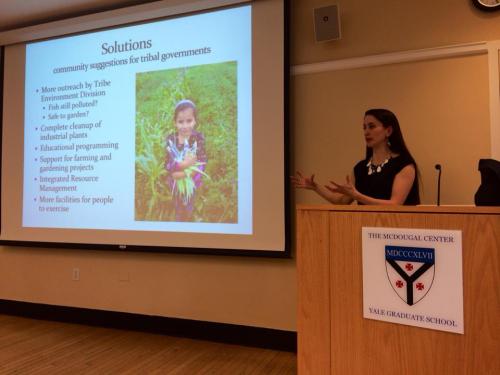 In early April, Yale's Indigenous Graduate Network hosted two indigenous studies scholars from Brown University: Elizabeth Hoover and Angelo Baca. Each presented their own individual presentations on campus as well as jointly attended the YGSNA bi-monthly lunch held in the Native American Cultural Center.
Elizabeth Hoover (pictured) is an assistant professor of American Studies and Ethnic Studies at Brown University, and she delivered an afternoon lecture entitled " 'The River Is in Us': Fighting Toxics in a Mohawk Community."  At the the YGSNA luncheon, Professor Hoover discussed her current book project of the same title.
Following Dr. Hoover's presentation, Angelo Baca (a visiting lecturer at Brown University's Center for the Study of Race and Ethnicity in America) hosted an evening screening of his documentary film entitled "Into America: The Ancestors' Land."  This evening event, hosted at the Native American Cultural Center, also included a performance by Blue Feather, Yale's student-run Native American drum group.
These events were organized by Yale's Indigenous Graduate Network (IGN) through the generous sponsorship of: the Yale Group for the Study of Native America (YGNSA); Native American Cultural Center (NACC); Ethnicity, Race, & Migration (ER&M); Forum on Ecology and Religion at Yale; American Studies; Yale Sustainable Food Project; Native American Law Students Association (NALSA); Association of Native Americans at Yale (ANAAY); Yale American Indian Science & Engineering Society (AISES); Yale Native American Arts Council (YNAAC); Blue Feather Drum Group.