YGSNA Celebrates New Books from Lisa Brooks and Christine DeLucia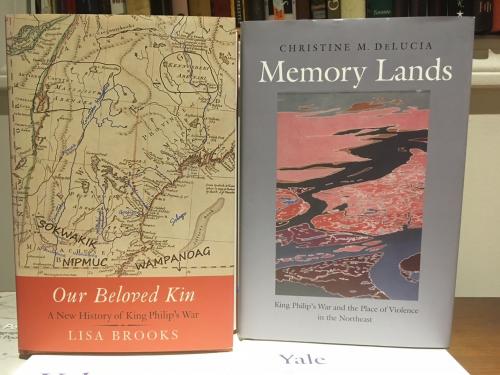 On February 20th at the Peabody Museum, YGSNA members welcomed professors Lisa Brooks and Christine DeLucia to celebrate the highly anticipated publication of their new books: DeLucia's Memory Lands: King Philip's War and the Place of Violence in the Northeast and Brooks' Our Beloved Kin: A New History of King Philip's War. Both books were released in January with Yale University Press in the Henry Roe Cloud Series on American Indians and Modernity. Both reassess the Native Northeast's rich and disturbing past, one whose history was recorded by Puritan leaders in the Seventeenth Century and shaped into larger national narratives about the meanings of America. 
Only recently have scholars begun to re-examine the history of the Indigenous societies that dominated the coasts of the seventeenth-century Northeast during Puritan settlement. This Algonquian-speaking world was a shared social space inhabited by nearly two-hundred-thousand, and its experiences under the weight of European and English colonization still too often remain absent from analyses of early America.
Both DeLucia and Brooks have written field-altering works that reconsider this history and its enduring legacies. Both take varying methodological and theoretical approaches to the wars of the seventeenth-century, particularly King Philip's War of 1675-76. In fact, Our Beloved Kin offers "a new history of King Philip's War," doing so, as Brooks relays, by providing new subjects of analysis, Indigenous place-names, and narrative strategies that center Native people within this violent colonial conflict.
 An Associate Professor of English and American Studies at Amherst College, Brooks (Abenaki) has written extensively about the literary and cultural history of the Native Northeast. Her first book, The Common Pot: The Recovery of Native Space in the Northeast, was published in 2008 by the University of Minnesota Press, and like Our Beloved Kin, it works against the totalizing historiographies of Puritan and later American scholars that have often erased Native peoples from the region. Her new book prioritizes Native voices and authority. It particularly assesses forms of Indigenous female political leadership and autonomy across seventeenth-century New England. It also highlights the rich dynamism of Native intellectual production and traces the experiential nature of colonialism through individual Native biographies.
Professor Christine DeLucia is familiar to many within the YGSNA community. She earned her Ph.D. in American Studies before taking a position in the History Department at Mt. Holyoke, where she teaches courses in Native American history, historical methods, and environmental history, among others. Memory Lands examines the aftermath of this seismic conflict, which reordered the demographic and spatial order of the Northeast and sent thousands of Native peoples out of the region as refugees, captives, and slaves. DeLucia traces key sites of such legacies and exposes the ongoing colonial and American national practices of erasing such histories of violence. 
Both presentations introduced key elements within these ambitious and wide-ranging studies. Their presentations were followed by a book-signing at the Museum and then a dinner at the Native American Cultural Center with NACC students, faculty, and community members.