YGSNA and NALSA Host White House Special Assistant Jodi Gillette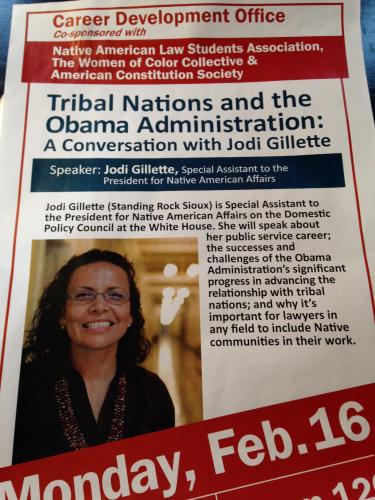 Jodi Gillette (Standing Rock Sioux), Special Assistant to the President for Native American Affairs on the Domestic Policy Council at the White House, spoke to Yale students and faculty at the Yale Law School on Monday, February 16, and met the evening before with Native American Students, Staff, and Faculty at the Native American Cultural Center. The Yale Blue Feather drum group welcomed Ms. Gillette to the NACC.
Co-sponsored by the Native American Law Student Association and the Yale Group for the Study of Native America, Ms. Gillette's talk attracted nearly one hundred Yale undergraduates and law students. In her presentation, Ms. Gillette described her public service career, including her path to the White House. She also spoke about the successes and challenges of the Obama Administration's significant progress in advancing the nation-to-nation relationship with tribal nations. In addition, Ms. Gillette educated students about the historical and legal background of the relationship between tribal nations and the federal government, explicating tribes' unique role and status in the United States. She spoke at length about emerging coalitions in Washington that are supporting tribal sovereignty efforts, noting how bi-partisan tribal policies and affairs have comparatively become in Washington's historically divisive political climate.  
Ms. Gillette in particular emphasized why it's important for lawyers in any field to include Native communities in their work. She closed her presentation by presenting two pieces of advice for policymakers, legislators, and business leaders. First: do not forget to consider the impact of new laws or projects on tribes. Second: when you don't know how an issue will affect a tribe, ask.