YGSNA and NALSA Host Examination of "the Washington Football Team"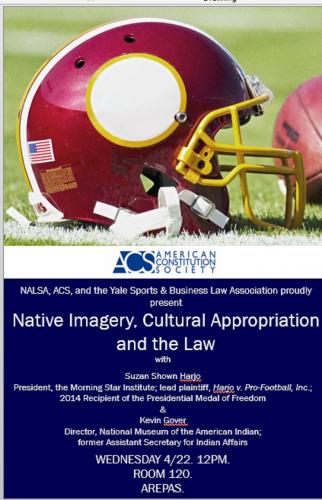 On April 22nd, members of the Yale Group for the Study of Native America and the Native American Law Student Association welcomed National Museum of the American 
Indian Director Kevin Gover and President of the Morning Star Institute Suzan Harjo to the Yale Law School. Each has actively opposed the continued use of American Indian mascots in professional sports and were invited to address the Yale Law School community on the recent case "Harjo v. Pro-Football, Inc." a U.S. Court of Appeals case that considers the trademark holdings of the "Washington Football Team." The case was brought by Suzan Harjo who received the 2014 Presidential Medal of Freedom from President Obama for her tireless efforts to combat the continued use of Indian imagery in athletic competitions.
At the Law School event, entitled "Native Imagery, Cultural Appropriation and the Law," Gover and Harjo relayed the varying arguments made by fans and proponents of the "Washington Football Team" and countered them with extended legal, ethical, and humorous responses. Moderated by Professor Gerald Torres, the event was introduced by NALSA President Katie Jones. Torres, Gover, and Harjo all identified the misuse of First Amendment claims to use Indian racial mascots in professional sports, noting that U.S. statutes hold that slanderous and racially intolerant speech cannot be trademarked. 
The Washington Football Team uses American Indian imagery and a slanderous name for its identity and profits annually from such use.
Both before and after the panel, Harjo and Gover attended Native American Cultural Center activities and recruitment events, each joining the NACC extended community as prospective freshman attended Yale's annual Bulldog Days events.
Harjo also provided an extended overview of her career in the arts, in politics, and in the tireless promotion of tribal sovereignty and empowerment during a Master's Tea at Ezra Stiles College. It was hosted by Master Stephen Pitti who serves on the Native American Cultural Center Advisory Board. Gover and YGSNA Faculty Coordinator Ned Blackhawk also both discussed their recent involvement and/or support for the Organization of American Historians' recent endorsement to change the name and logo of the Washington Football Team. As the nation's leading organization of scholars of U.S. history, OAH members joined at their most recent annual meeting their colleagues in other fields, such as the American Anthropological Association, American Sociological Association, Linguistic Society of America, and American Psychological Association, who have taken similar stands.