YGNSA Members Convene Strange Multiplicity Symposium
On October 1st and 2nd, YGSNA members welcomed several dozen guests to campus for the symposium, "Strange Multiplicity at 20: Indigenous Studies and Anti-Imperial Critique for the 21st Century." Co-hosted with the Yale Political Theory Workshop, this conference examined the two-decade influence of Strange Multiplicity: Constitutionalism in the Age of Diversity by Professor James Tully of the University of Victoria, Canada. A work of far-reaching and probing insights, Strange Multiplicity examines the "imperial features of modern constitutionalism" and contends that Indigenous difference and the legacies of imperialism must provoke "more than a civic awareness that citizens of other cultures exist in one's polity."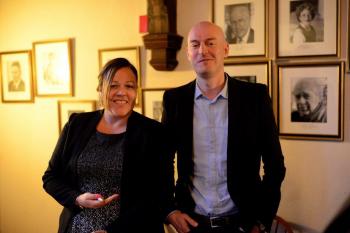 Co-founder of the University of Victoria's Indigenous Governance Program (IGOV), Tully and the IGOV's influences upon the field of Indigenous critical theory have been extensive. Several current and former IGOV students attended the gathering, as did McGill University and University of Toronto graduates, Audra Simpson (Columbia), Dale Turner (Dartmouth), and Robert Nichols (Minnesota), all of whom either studied with Tully or were deeply influenced by him when he taught within those institutions.
The symposium began with a keynote by Tully in the Whitney Humanities Center Auditorium. Entitled, "A View of Transformative Reconciliation," Tully's address surveyed his current perspectives on Indigenous political and theoretical development and their place within as well as upon critical theory. Yale Faculty member Seyla Benhabib (Political Science) then joined Simpson and Paul Patton from the University of New South Wales, Australia, on a plenary panel, each offering appreciation of Tully's long-standing commitments to theorizing "the Age of Diversity" as well as suggestions for his current formulations.
Friday's morning and afternoon sessions included over a dozen papers as well as a concluding roundtable on the "Futures of Interdisciplinary Anti-Imperial Critique," during which Tully reflected upon the two-day symposium.