YGNSA Co-Sponsors Collaborative Symposium on the "Work of Settler Colonialism"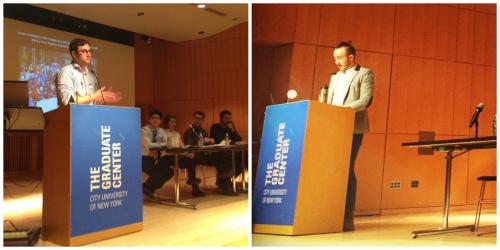 On Saturday, April 2nd, Indigenous studies scholars from across North America gathered at the CUNY Graduate Center in New York City for a day-long symposium entitled, "The Work of Settler Colonialism." The event was co-organized by YSGNA graduate coordinator Andrew Bard Epstein and co-sponsored by the Yale Group for the Study of Native America. Graduate students and departments at both Columbia University and the City University of New York also worked to sponsor and co-organize this event. This event is the most recent in a series of recent collaborations between YGSNA and graduate programs in New York City. 
Taking up the recent growth of "settler colonialism" as an organizing concept in Native American Studies, participants presented a range of work that extended, challenged, and grounded this emergent paradigm in labor history, Marxist theory, Native economic development, the impact of Canada's oil industry, and in other diverse fields. YGNSA member and American Studies PhD candidate Tyler Jackson Rogers presented his work on Indigenous enslavement in settler colonial New England.
With over a hundred gathered participants as well as dozens more who had to be wait-listed, the day of panels and discussions ended with a keynote roundtable featuring Professors Audra Simpson of Columbia, Glen Coulthard from the University of British Columbia, J. Kēhaulani Kauanui from Wesleyan, Sandy Grande from Connecticut College, and Dean Itsuji Saranillio from NYU.