Yale University Press Partners with the National Museum of the American Indian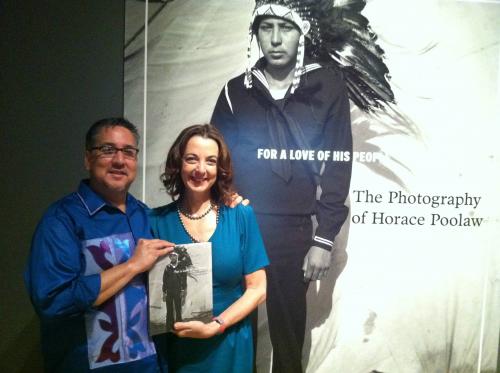 Yale University Press Partners with the National Museum of the American Indian
 On August 9th, the New York branch of the National Museum of the American Indian (NMAI) opened the exhibition, "For a Love of His People: The Photography of Horace Poolaw." Consisting of 81 photographs, 10 vintage postcards, and Poolaw's camera, the exhibition is the first major retrospective of the Kiowa photographer Horace Poolaw (1906–1984) who photographed the everyday life of Native peoples in Oklahoma throughout the twentieth century. Poolaw's family maintained his extensive archive and has worked to establish his growing reputation as one of America's most dynamic photographers of Native people, a photographer whose images of Native people portray undefeated and vibrant subjects. The exhibition is on view through February in the museum's West Gallery.
Curated by professors Tom Jones (Ho-Chunk) and Nancy Marie Mithlo (Chiricahua Apache), (see photo) the Poolaw exhibition is accompanied by the catalog, For a Love of His People: The Photography of Horace Poolaw, edited by Mithlo and published by Yale University Press. For A Love of His People features 16 essays from scholars, photographers, and family members and includes dozens of expertly reproduced Poolaw photographs. The 184-page book is available in Smithsonian museum stores and is the third volume in the Yale U.P. Henry Roe Cloud Series on American Indians and Modernity.
The National Museum of the American Indian–New York, the George Gustav Heye Center, is located within the historic Alexander Hamilton U.S. Custom House. 
Read more here