Yale University Press Hosts Celebration of Lisa Brooks' Bancroft Prize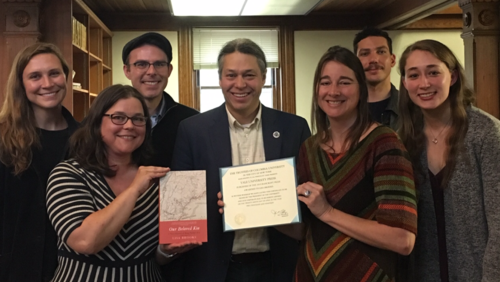 On May 14th, Yale University Press hosted an afternoon reading and book signing for Professor Lisa Brooks (Abenaki) whose 2018 work, Our Beloved Kin: A New History of King Philip's War, won the 2019 Bancroft Prize. Awarded by Columbia University, the Bancroft Prize is widely considered one of the most illustrious scholarly prizes in U.S. history and is awarded annually to two authors of distinguished works in American history. 
Our Beloved Kin was published published in 2018 with Yale University Press in the Henry Roe Cloud Series on American Indians and Modernity. A monumental re-reading of seventeenth-century New England history, it examines the enduring, adaptive strategies of resistance and survival that Algonquian-speaking Northeast Native communities developed throughout the first generations of Puritan colonization. It foregrounds in particular the forms of gendered Indigenous political authority developed by Native leaders and assess many new subjects of analysis, including Indigenous place-names, female political leaders, as well as narrative and publishing strategies, among others. Each of these revelatory themes center Native people within the region's processes of colonial formation. 
An Associate Professor of English and American Studies at Amherst College, Brooks (Abenaki) has published widely on the literary and cultural history of the Native Northeast. Our Beloved Kin builds upon her first work, The Common Pot: The Recovery of Native Space in the Northeast(University of Minnesota Press, 2008). 
Several current as well as former members of the Yale Group for the Study of Native American members attended this celebration, which was hosted by Senior Editor for History Adina Popescu Berk. 
For more see: 
https://yalebooks.yale.edu/book/9780300244328/our-beloved-kin