Valerie Red-Horse, Jeff Barnaby, and Kawennáhere Devery Jacobs Headline Through Indian Eyes Film Festival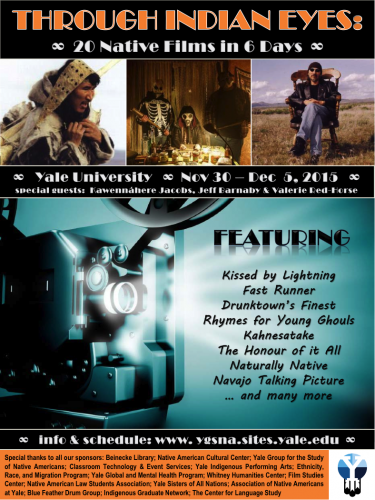 YGSNA, the Native American Cultural Center, and Yale Indigenous Performing Arts Program (YIPAP) co-sponsored the Through Indian Eyes film festival from November 30-December 5th. Screening "Twenty Native Films to Yale in Six Days," more than two hundred students, staff, faculty, and community members attended this six-day event. Cherokee Director Valerie Red-Horse, Mi'gmaq Director Jeff Barnaby, and Mohawk Actress Kawennáhere Devery Jacobs introduced and/or commented on each of their respective films and were joined by Yale staff and faculty as well as Native American Language Project instructor Nicholas Charleston of the Choctaw Nation in introducing each film.  Participants and attendees came from Los Angeles, Canada, and Oklahoma as well as across the Northeast.
Beginning with a screening of the epic Inuit film Atanarjuat: The Fast Runner in the Department of Psychiatry and concluding with Barnaby's Rhymes for Young Ghouls at the NACC, Through Indian Eyes used six venues on campus, including the Whitney Humanities Center Auditorium where Red-Horse's Naturally Native and Chris Eyre's Smoke Signals were each shown on 35mm. Each of the twenty films was directed by a Native film-maker, including feature-length works from Red-Horse, Barnaby, Eyre, Alanis Obomsawin, Sterlin Harjo, and Heather Rae, among others, along with sets of short works. Films were also shown in three Yale courses: "Writing Tribal Histories;" "Introduction to American Indian History;" and "Native American and Indigenous Literatures." YIPAP members Mary Kathryn Nagle and David Rico introduced Smoke Signal and joined the NACC in welcoming Red-Horse, Barnaby, and Jacobs to campus.
Generous support came from a range of Yale institutions and programs, including the Beinecke Library and Program in Ethnicity, Race, and Migration. Classroom Technology and Events Services and the Film Studies Center offered invaluable assistance and helped to coordinate the installation of numerous media devices required for screening these films.
A touring showcase of Native North American cinema, Through Indian Eyes is presented in association with UCLA Film and Television Archive and made possible by a grant from the National Endowment for the Arts. Yale was the second stop on the tour and received the films from their respective distributors as well as from Vancouver's Cinematheque Theater, the tour's first institutional host.
See more here