Upcoming Exhibition by ISAPD featured in Architectural Digest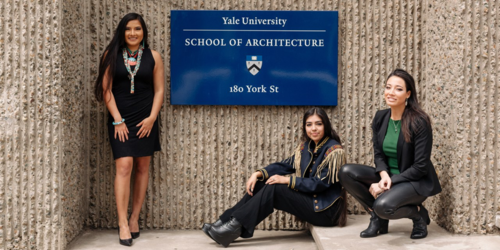 The Yale University student group, Indigenous Scholars of Architecture, Planning and Design (ISAPD) was recently featured in Architectural Digestwhich highlighted their work as curators and designers for the upcoming exhibition, Making Space for Resistance: Past, Present, Future.Set in the North Gallery of the Yale School of Architecture, the exhibit will feature contemporary works from indigenous artists and architects that depict major trends in spatial design since the mid-twentieth century. 
Architecture has always been fundamental to envisioning a brighter future for American Indians. On December 23rd, 1969, the Indians of All Tribes Conference presented plans to design and build spaces for indigenous resistance on Alcatraz Island. Although the Occupation helped to bring attention to solidifying an official U.S. policy of tribal self-determination, the plan to construct a gathering place for all tribal nations on Alcatraz Island was never fulfilled. Making Space for Resistancewill highlight past, present and future visions of Indigenous spatial design connected to the objectives of the conference held on Alcatraz Island in 1969. The exhibition marks the 50thAnniversary of the Indians of All Tribes Conference and the Alcatraz Occupation, an act of indigenous resistance compelling justice and recognition of tribal self-determination and sovereignty.
The group curating the exhibition, ISAPD was founded in September 2018 as a student group in the Yale School of Architecture by PhD student, Summer Sutton (Lumbee), MArch I student, Anjelica Gallegos (Santa Ana Pueblo/Jicarilla Apache), and BA in Urban Studies student, Charelle Brown (Kewa Pueblo). The student group has held regular meetings and participated in events to increase the knowledge and awareness of indigenous Architecture at the Yale School of Architecture and the wider university community. Since their 2018 founding, they have been featured in numerous national publications and presented their work at many universities.
The exhibition will be on display at the Yale Architecture Gallery from August 29thto October 5th, 2019. 
Fore more, see featured article in Architectural Digest:
https://www.architecturaldigest.com/story/natures-emissaries-indigenous-women-creating-new-conversations-at-yale-architecture-school?fbclid=IwAR3AfFkwSBd2HIAuwGNl0BJjXtjFbR-ijLZPjiNLv3s8arHarSEBNDeF4wE
For more information about the Indigenous Scholars of Architecture, Planning and Design: