Tantoo Cardinal and Meryl Streep join in honoring Misty Upham

From Friday April 30th through Sunday, May 2nd, the 6th Annual Yale Indigenous Performing Arts Program (YIPAP) Young Native Playwrights Festival brought together hundreds of writers, actors, and audience members to celebrate Native American storytelling. Livestreamed online over three days, the festival also included an evening tribute honoring the career and legacy of Misty Upham, a member of the Blackfeet Nation and acclaimed actress. This tribute included music and remembrances from Upham's family and friends; members of Seattle's Red Eagle Soaring Theater Company where Misty started her theatre career; and actors from across Canada and the United States, including Order of Canada recipient Tantoo Cardinal (Cree and Métis) and Oscar-Winning Actress Meryl Streep (MFA '75), both of whom worked with Upham.
All paid tribute to Upham's prominent career and her enduring vision of increasing opportunities for Native actors. Named in Upham's honor, the inaugural Yale Young Native Actor's Award was presented to Isabella Star Lablanc (Sisseton Wahpeton Dakota) who is currently filming the first season of "Long Slow Exhale" from Paramount TV Studios and Spectrum Originals.
During the festival, the 6th Annual Young Native Playwrights Contest was won by Drew Woodson (Western Shoshone) for his play "Your Friend, Jay Silverheels." Drew is a theater and performance studies major at UC Berkeley. His play examines some of the experiences of Native actors working in the theater industry today. It was performed May 1st and was directed by Tara Moses (Seminole).
This year's festival also included readings of new works by Rhiana Yazzie (Navajo) and William S Yellowrobe Jr. (Assiniboine). Rhiana Yazzie's play "The Nut, the Hermit, The Crow, and the Monk" was performed on April 30th, directed by Jen Olivares (Juaneño Band of Mission Indians), and Yellowrobe's new comedy "Raising Ma'zaska" was performed May 2nd, directed by YIPAP Director Madeline Sayet (Mohegan).
Each year the YIPAP Festival features performances by professional Native actors alongside Yale students.
Festival winners all received a cash prize, performance opportunities, and a commemorative award. The selection panel for the award was composed of: Mary Kathryn Nagle (Playwright), Delanna Studi (Artistic Director, Native Voices at the Autry), Asa Benally (Designer), Kenny Ramos (Actor), Tara Moses (Playwright/Director), Claire Burke (CSA, Tara Rubin Casting).
At the awards ceremony, Native actors Kimberly Guerrero, Sera Lys McArthur, and Delanna Studi presented the awards, and recipients offered their appreciation and remarks.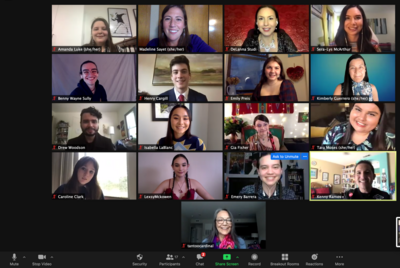 This year's winners and finalists:
Winner (The Misty Upham Award): Isabella Star Lablanc (Sisseton Wahpeton Dakota)
Finalists: Emery Barrera (Klamath/Lakota) and Emily Preis (Osage)
Honorable Mentions: Lexsy Mckowen (Choctaw) and Benny Wayne Sully (Sicangu Lakota Oyate)
Special Youth Prize (For actors under 18)
Winner: Gia Fisher (Northern Cheyenne)
Finalist: Henry Cargill (Acoma-Pueblo)
Honorable Mention: Caroline Clark (Muscogee (Creek)/Cherokee)