RITM Center Concludes Busy First Semester of Work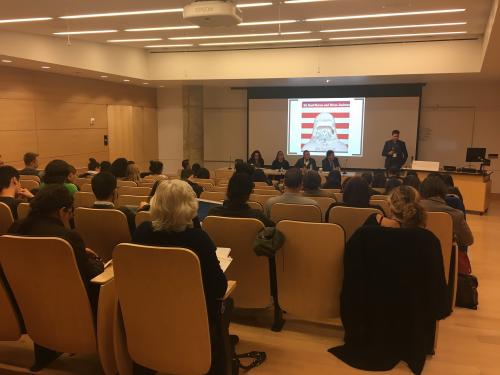 Founded in January 2016, the Yale Center for the Study of Race, Indigeneity, and Transnational Migration (RITM) has become a unique research and teaching unit on campus that promotes work on topics of critical historical and contemporary importance. Encouraging projects, courses, and research that span and connect disparate communities and experiences, the Center has recently concluded its first full semester of work. Highlighted by the arrival of two postdoctoral fellows, a weekend-long conference on American Ethnic Studies held in honor of Don Nakanishi, and nearly 100 sponsored and/or co-sponsored events, Fall 2016 was a historic semester on campus for Yale's Ethnic Studies efforts.
The Center is committed to research and teaching animated by:
•     Intersectional analysis that explores how gender, race, sexuality, and other categories work together in crucial ways to shape the modern world. 

•     International research and global partnerships that trace communities, ideas, and institutions beyond single nation-states. 

•     Interdisciplinary scholarship, policy analysis, and artistic work inspired by a range of methodological tools. 

•     Indigenous claims by Native peoples, and autochtonous, "bottom-up" perspectives by populations underrepresented in academic and policy circles. 

Following its creation, the Center has provided particularly valuable administrative oversight for sets of Native American and Indigenous Studies efforts. For example, the Yale Indigenous Performing Arts Program (YIPAP) is now housed in the Center and administered by Executive Director Mary Kathryn Nagle and Associate Director Reed Bobroff. The Center partners with the Yale Divinity School to oversee the Yale Indian Papers Project run by Director and Executive Editor Paul Grant-Costa, Assistant Executive Editor Tobias Glaza, and Tribal Intern Eric Maynard (Mohegan). The Center also is home to RITM Fellows and Visiting Researchers, including two postdoctoral associates in 2016-17, including Professor Lani Teves from the University of Oregon who offered an undergraduate course in Ethnicity, Race, and Migration Program. The Center also now oversees the Henry Roe Cloud Dissertation Fellow held in 2016-17 by Washington University doctoral student Shanondora Billiot (United Houma Nation).
The many events sponsored or co-sponsored by the Center in Fall 2016 included co-sponsorship of "Food and Racial Justice" series from September through November; co-sponsorship of the All-Ivy Native Conference and event related to No-DAPL movement in North Dakota (October); co-sponsorship of WGSS's "Transnational Asian Feminisms" series (October-November); and the first annual RITM Ethnic Studies Conference, held in November in Honor of Don Nakanishi '71. At the Nakanishi conference, current and former YGSNA members, Dr. Jenny Davis (University of Illinois); Dr. Khalil Anthony Johnson (Wesleyan University), Dr. Kelly Fayard (Yale N.A.C.C. Director), and doctoral candidate in American Studies Tyler Rogers shared aspects of their ongoing work in the field of Native American Studies. (see photo)