Record-Setting Ivy Native Summit: "Indigenous Feminisms: Helping Each Other Grow"
Representing over 80 different tribal communities, nearly two hundred Native American students attended the 2016 Ivy Native Summit on November
4-6th
. Joined by dozens of Connecticut Native community members, Yale administrators, faculty and staff, and nearly a dozen invited guests, this year's Summit was the largest in the decade-long history of the Ivy Native Summit. This annual fall gathering is hosted by the Ivy Native Council, a student council that represents Native American, Alaska Native, and Native Hawaiian students across the eight Ivy League campuses. Including students from NYU, McGill University, Duke, among others, the theme of this year's summit was "Indigenous Feminisms." 
Each Summit meeting focuses upon specific themes and matters of pressing concern. 2015-2016 was particularly formative for the Yale Native American Cultural Center community, which proposed in Spring 2016 to host the Fall Summit. The past twelve months witnessed not only heightened degrees of activism across campus but also saw the rise of new sovereignty rights movements throughout Indian Country, particularly at Standing Rock, North Dakota. 
This year's Summit focused upon the enduring strength and nurturing wisdoms of Indigenous feminisms. Focusing upon the experiences of Indigenous women, the unique as well as shared principles of gender equity within Native communities, as well as the colonial imposition of patriarchal, gendered binaries, the invited speakers highlighted guiding principles and practices of Native feminisms.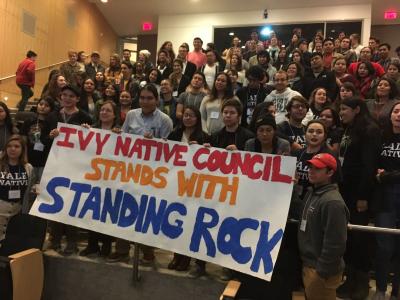 Speakers included, traditional Mohawk healer and midwife Katsi Cook, whose presentation, "Reproducing Reproduction from Mythology to the Living World," highlighted the extensive forms of Indigenous knowledge related to Indigenous birth practices and Native women's health across eastern Canada. Native Hawaiian scholar, Professor Lisa Kahaleole Hall highlighted the particular forms of gendered impositions brought to Native communities by European and U.S. colonialisms, particularly across the Indigenous Pacific. Diné social worker and community activist Amanda Blackhorse discussed the myriad forms of harm produced by the ongoing use of Native American mascots in U.S. sports, while also updating conference participants on the current state of the legal battle to remove the Washington football team's current mascot. Mohawk and Cherokee spoken-word artist and musician, Dio Ganhdih concluded the formal presentations with an overview of her own work to decolonize through the use of contemporary music. Gandhdih also spoke at length about her recent efforts at Standing Rock and highlighted the gender inclusiveness that characterizes the encampments that have formed to protect Native sacred sites, water resources, and tribal sovereignty. Students discussed their respective institutional engagements with these concerns, wrote postcards to current U.S. political leaders, and took solidarity photos. 
With a formal welcome from Yale President Peter Salovey, the Summit closed with an inter-tribal social and community dinner held in the Afro-American Center. Several local Indian drum groups welcomed the gathering.