NMAI Magazine (Winter 2014) Features Yale Author & Publication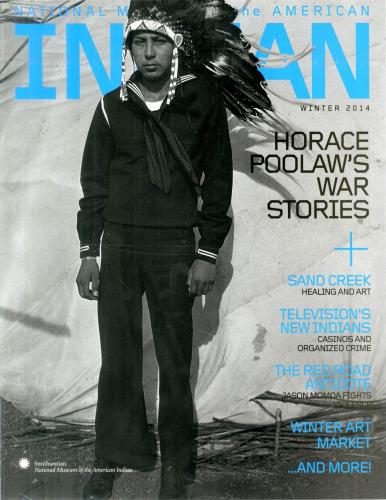 The latest National Museum of the American Indian quarterly issue of American Indian includes two Yale-related articles. Its cover story, "Valor in Black and White," examines the military photographs of Horace Poolaw, the Kiowa photographer whose works are currently on display at New York's NMAI Custom House museum. Written by NMAI editor and writer Alexandra Harris (Cherokee), this lead story highlights Poolaw's long-standing commitments to honoring Native American military service and draws upon the NAMI exhibition and Yale University Press catalog of the same title, For A Love of His People: the Photography of Horace Poolaw (2014). As Harris relays, "Poolaw's pride in documenting honors in war echoes those recounted deeds (of 19th-century Kiowa warriors); he provides evidence for us today of the honor dances, parades, powwows and Gourd Dances during this time of change." Drawing on interviews with Poolaw family members, Harris's essay deepens both the exhibition and the catalog, adding new insights to this recurring feature of his work.
In another article on Native Hawaiian actor, Jason Momoa, YGSNA member Anya Montiel (American Studies) profiles Momoa's recent film-making efforts in the 2014 film, Road to Paloma. The film "tells the story of Robert Wolf, a Mojave Indian man who has spent six months on the run for killing the man who raped and murdered his mother." Known for his roles in the HBO series Games of Thrones and his lead in the 2011 remake Conan the Barbarian, Momoa both stars in and directs Road to Paloma. A four-year undertaking, the film, according to Montiel, "addresses the real and disturbing issue of rampant violence against Native women." It co-stars Lisa Bonet, Momoa's wife, who previously worked with Momoa in the Sundance Channel series The Red Road in which she played a Ramapough Lenape lawyer.
This is not the first time that Montiel has interviewed a celebrity. Her profiles of Native musicians, sports figures, as well as artists appear regularly in the publication, one of the most popular in Native American arts and culture.