New Native Studies Hires Complete First Semester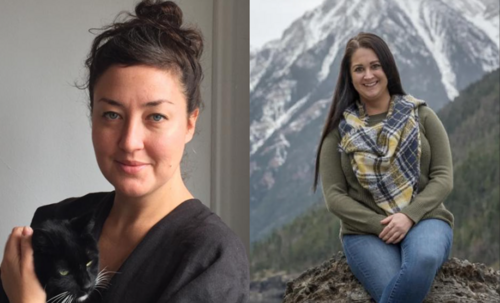 Professors Hiʻilei Hobart and Tarren Andrews were both hired in 2022 as faculty members in the Ethnicity, Race, and Migration Program. Specializing in Native studies, they have significantly expanded opportunities for engagement with Indigenous studies and worked to expand curricular initiatives within the field. In Fall 2022, Hobart offered a First-Year Seminar, "Indigenous Food Sovereignty," along with an upper-division seminar, "Indigenous Politics Today," while Andrews offered "Indigenous Thought and Anticolonial Theory," as an upper-division seminar. All three courses were heavily enrolled.  
Hobart holds a PhD in Food Studies from New York University, an MA in Studies in the Decorative Arts, Design, and Culture from the Bard Graduate Center, and an MLS in Rare Books Librarianship and Archives Management from the Pratt Institute. Born and raised in Hawai'i, she specializes in food studies and Indigenous relationships with the land and environment. This November, Hobart helped host the annual Fall Feast that brought students from her First Year Seminar to the Yale Farm throughout the semester to prepare food for the Feast.
Earlier this month, Hobart published her first book, Cooling the Tropics: Ice Indigeneity, and Hawaiian Refreshment. Her book, a recipient of Duke University Press's Scholars of Color First Book Award, charts the social history of ice in Hawai'i, exposing how ice and refrigeration underpinned settler colonial ideas about race, environment, and the senses. Recently featured on Jonathan Van Ness's podcast Getting Curious, Hobart explained, "We don't really think about our refrigerators and our freezers as being parts of the story of colonialism. We don't really think about our cocktails as being part of the story either… There's something really dangerous about that normalization." 
Andrews received her Ph.D. in English from the University of Colorado, Boulder. She has graduate certificates in Native American and Indigenous Studies; Culture, Language, and Social Practice; and College Teaching. Raised on the Flathead Indian Reservation, her research on settler colonialism in the early medieval North Atlantic focuses on how settler colonial ideologies in many ways originated before Indigenous-European contact. She is also passionate about language revitalization and contributed the opening lines in the 2021 translation of Beowulf by All.
In April, Andrews participated in the Emerging Scholars Symposium at New York University. The symposium consisted of a three-part lecture series on Native American and Indigenous Literatures featuring three early career scholars. Andrews presented her research in a lecture titled "String, Beads, Threads, and Linen: Reading the Bayeux Embroidery from a Wampum Epistemology." The talk "reread" the Bayeux Embroidery, a famous textile depicting the Battle of Hastings in 1066, from an epistemological perspective informed by Indigenous worldviews shaped by the Haudenosaunee Great Law of Peace and practices of wampum belt diplomacy. Over the last year, Andrews has completed numerous presentations on her work across the country. In addition to her seminar on Indigenous thought and anticolonial theory, she was recently selected as the Yale liaison for the Newberry Consortium in American Indian and Indigenous Studies (NCAIS), which provides training for graduate students in Indigenous studies.
Andrews's forthcoming book takes a transtemporal approach to law and literature, re-examining legal and literary artifacts from the early medieval North Atlantic alongside resonant documents and stories from Turtle Island. This work seeks to examine some of the origins of Anglophone settler colonial logics as they are manifested in U.S. and Canadian settler law. Her work aims to better understand how we might imagine anticolonial futures.