Native Students Visit the Nation's Capital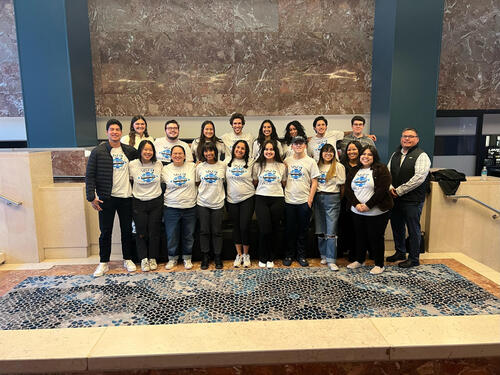 On October 19, a cohort of Indigenous students from Yale traveled to Washington D.C. for a professional development trip. Organized by the Native American Cultural Center (NACC) and the Native and Indigenous Student Association at Yale (NISAY), the trip featured opportunities for Native students to connect with alumni, explore careers in various fields, and bond with their peers.
Trip organizers arranged an impressive itinerary for students including a private presentation and tour at the National Museum of the American Indian; a tour of the Capitol courtesy of Senator Lisa Murkowski; a meeting with the National Indian Education Association; and a reception and career mentoring session hosted by Native American Yale Alumni.
A private tour of the Department of the Interior (DOI), courtesy of Assistant Secretary Bryan Newland, was a trip highlight. Mara Gutierrez ('25), a NISAY board member and one of the trip organizers, said "during the tour of the Department of the Interior, I was inspired to apply for an internship in an office that I would not have thought to apply to."
NISAY board member Madeleine Gupta ('25) also reflected on the impact of the DOI visit: "I got to see firsthand how the country's capital is run, especially in relation to Native people and federal Indian law. After meeting with the Department of the Interior and having a tour of the Capitol building, I feel that I understand better the career opportunities and space for Indigenous people in the law."
In between these formative learning opportunities, students even got to shoot hoops on the DOI basketball court!
The career mentoring session hosted by Native American Yale Alumni was another trip highlight. Student at the Yale School of Public Health Shayna Naranjo ('24) welcomed the opportunity to forge new connections: "We got to meet Indigenous and non-Indigenous alumni working in D.C. There, I connected with the First Gen at Yale representative and talked about possible collaborations and avenues of support for health-related programming."
Ashton Megli ('18) was excited to offer guidance as an Indigenous alumna: "I enjoyed connecting with current students and getting updates on current Yale happenings. I was happily surprised that many students were from Saybrook, my residential college! I also was able to share some of my post grad experience with students in obtaining my social work degree and shared potential opportunities for recruiting Native students in my current role at Deloitte." She also noted her excitement at "seeing that the Yale native community is still going strong and making an impact on campus and post-grad."
From experiences gained through the planning process and the possibility of future internships, the effects of the trip will extend far beyond the four days students spent together in D.C.
As a NISAY board member, Gutierrez noted the valuable skills she gained from her work organizing the excursion: "I was able to work out logistics and practice skills that may be applicable to my future occupations. I learned how important connections are in planning big projects, how to fund trips and budget money, and how to work collaboratively with others in stressful situations."
In addition to the scheduled tours and professional development opportunities, students had time to sightsee and bond, visiting the Library of Congress, Lincoln Memorial, and White House, and enjoying group meals and walks along the Washington Mall. Gupta noted the importance of these moments of connection, "I also was able to bond with my fellow Indigenous students by walking around D.C. together, seeing monuments and having meals together. I hope we are able to do this again next year!"