Native American Language Project (NALP) Expands Number of "Community" Language Classes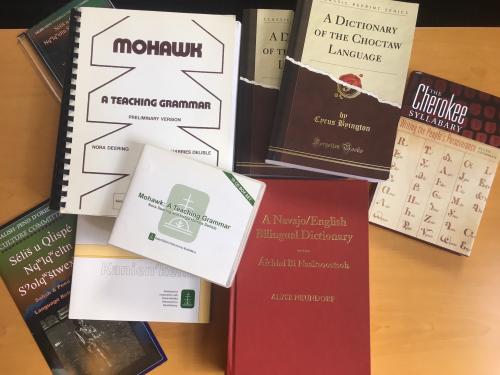 The Native American Language Project (NALP) has organized a record number of Native American language "community" classes for the 2017 Spring Semester. With three intermediate language classes in Cherokee, Choctaw, and Native Hawaiian and four elementary classes in Lakota, Mohawk, Navajo, and Ojibwe, the language program includes over two dozen Yale students, nearly all of whom are members of the extended Native American Cultural Center community.
Under the leadership of YGSNA member, Dr. Angela Gleason, the Native American Language Project has modeled its classes on the Directed Independent Language Study program at Yale's Center for Language Study (DILS, (www.cls.yale.edu/dils).  Since 2001 DILS has supported Native language study in Lakota, Choctaw, Navajo, Tohono O'odham, Inupiaq, and Salish, among other languages.
Building upon the success of several group or "community" language classes in 2015-16, NALP has worked closely with NACC administrative leaders to expand the number of Native American language "community" classes, using the NACC Conference Room as the primary site of instruction. The NACC Library has compiled a small and growing set of language resources (see photo) for these as well as other languages.
Founded in Fall 2015, NALP was founded to bring more expansive Native American language training and programming to campus. Its students and teachers are drawn from across Native American and Canadian First Nations communities. Numerous NALP teachers have come to Yale to offer more intensive/extended language training.