Native American Language Project Hosts Choctaw Instructor Nicholas Charleston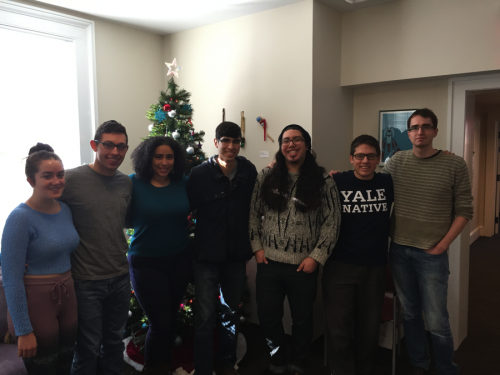 In early December, the Native American Language Project (NALP) hosted Choctaw language instructor Nicholas Charleston from the Choctaw Nation of Oklahoma. Visiting campus for four days, Charleston conducted both intensive classes with the half-dozen students in the 2015-2016 Choctaw Language Course and introduced Choctaw cultural activities to the class and extended Native American Cultural Center community. In particular, a Saturday afternoon game of Choctaw Stickball provided opportunities to learn about the ongoing forms of community and cultural exchanges that link Choctaw tribal communities together from across Oklahoma and Mississippi.
While on campus, Charleston also attended several showings of the "Though Indian Eyes" Film Festival co-hosted by YGSNA, the Native American Cultural Center, and Yale Indigenous Performing Arts Program. Charleston joined Cherokee filmmaker Valerie Red-Horse in discussing her film "Choctaw Code Talkers," a 57-minute documentary that examines the critical role that Choctaw members of the American Expeditionary Forces played in World War I. The use of the Choctaw language along the Western Front assisted in thwarting the German war effort, earning the code talkers the "Knight of the National Order of Merit" from the French Government in 1989.
In his teaching Charleston uses a methodology based in simple grammar to facilitate sentence creation. Charleston said, "Unless a student lives in a truly immersive environment, which many of us do not, sentence-creation training based off simple grammar structures is a must." Charleston adds, "By using these methods within a master-apprentice format, we can create new teams of future teachers who can repeat the process for generations to come, and eventually create a staff who could run an immersion school."
Founded in Fall 2015, NALP was founded 
to add new and more expansive Native American language training to campus and intends to increase Native American language programming based on the model of Yale's longstanding Directed Independent Language Study Program.  Charleston leads the bi-weekly Choctaw class via teleconferencing from Oklahoma and plans to return to campus to conduct further intensive Choctaw sessions in spring 2016.