Native American Language Project Expands Indigenous Language Instruction
Under the leadership of YGSNA member, Dr. Angela Gleason, the Native American Language Project (NALP) has added new and more expansive Native American language training. Starting in Fall 2015, NALP will increase current language programming offered through the Directed Independent Language Study program, (DILS, (www.cls.yale.edu/dils), providing Choctaw and soon Mohawk in collaboration with the Native American Cultural Center and Institute for the Preservation of Cultural Heritage. (http://ipch.yale.edu/) This four-year program is also generously supported by the Faculty for Arts and Sciences.  
Since 2010, the DILS language program has supported Native language study in Lakota, Choctaw, Navajo, Tohono O'odham, Inupiaq, and Salish. Starting this semester, language study will be offered not only in a record number of four Native languages (Choctaw, Mohawk, Hawaiian, and Salish), but also Choctaw is being offered as an open class, available to all Yale students. Held at the NACC, Choctaw language classes meet twice a week and include multiple NACC and Choctaw student members. Additionally, several cultural sessions will be also led by Choctaw scholars and elders, including Choctaw story-telling and stickball. Nicholas Charleston from Calera, Oklahoma, (photographed here with Dr. Gleason and NACC member David Rico '16) provides the weekly instruction.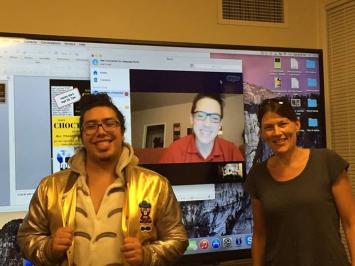 Future plans for NALP include expanded linguistic and cultural instruction as well as broader programmatic efforts. NALP, for example, intends to link its efforts with ongoing and upcoming NACC initiatives, including the December Native American Film Festival that YGSNA, the NACC, and the Yale Indigenous Performing Arts Program (YIPAP) are all co-sponsoring. At the end of each semester, NALP will also work to invite language instructors to campus to meet students, to learn more about the NACC community, and to provide continued and more intensive language training.