NALSA Panel - Equality vs. Exceptionalism: The Role of Race in Federal Indian Law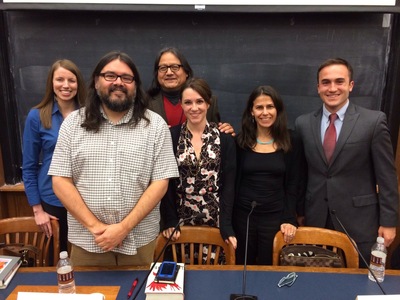 On April 5, the Native American Law Students Association (NALSA) hosted a panel on the role of race in federal Indian law at Yale Law School's Critical Race Theory Conference. Moderated by third-year law student Sparky Abraham, the event featured top Indian law scholars from around the country:
Kristen Carpenter, Associate Professor of Law and Co-Director, American Indian Law Program, University of Colorado Law School
Matthew Fletcher, Professor of Law and Director of the Indigenous Law & Policy Center, Michigan State University College of Law
Angela R. Riley, Professor of Law, UCLA School of Law; Director, UCLA American Indian Studies Center; and Co-Director, Native Nations Law and Policy Center
Gerald Torres, Bryant Smith Chair in Law, University of Texas at Austin School of Law
Panelists discussed the legal implications of placing American Indians into a post-racial framework and how the Supreme Court's recent focus on formal equality has impacted the "exceptional" nature of Indian law's particularized treatment of tribes. In particular, they addressed the following questions: How will the increasing illegitimacy of governmental racial classifications affect laws designed to preserve and advance tribal self-government and cultural survival? How can the tension between formal equality and the distinct status of Indian tribes be reconciled? Panelists argued that true equal treatment for Indian peoples means guaranteed sovereignty and difference, and that the Court should begin looking at international indigenous human rights as a method of securing Native rights and justice.