NALSA Members Clerk for State & Federal Judges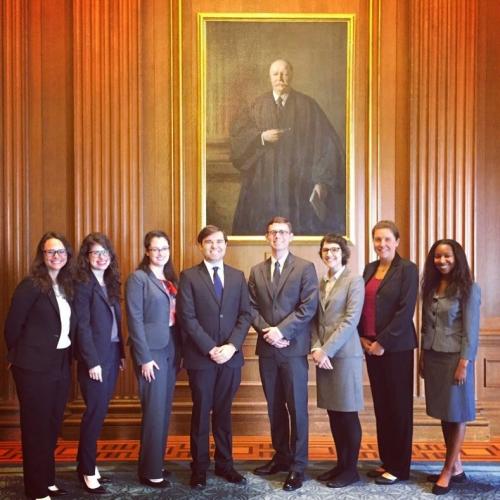 Two recent graduates and one current student of Yale Law School's Native American Law Students Association (NALSA) have served or will serve as law clerks to four separate federal and state judges. Clerks typically assist their judges with the process of researching and adjudicating cases. While each clerkship differs depending on the preferences of the judge, the informed opinion of the clerk is often weighed by the judge in making his or her decisions. Clerks frequently write drafts of judicial opinions, and the legal community highly values clerkships, viewing the position as one of the most prestigious and instructive for recent law school graduates. Serving as a clerk is also valuable for attorneys interested in practicing Indian law, a field shaped by federal judges.
Katie Jones (Law '16), a citizen of the Cherokee Nation, recently completed her clerkship with Judge Carlos Lucero of the Tenth Circuit Court of Appeals. Judge Lucero is based in Denver, CO, and was appointed to the bench in 1995 by President Bill Clinton. He is the Tenth Circuit's first Latino judge.
Allison Tjemsland (Law '17), a descendant of the Jamestown S'Klallam Tribe from Sequim, WA, has two clerkships lined up. She is currently clerking for Justice Sheryl Gordon McCloud of the Washington Supreme Court in Olympia, WA. Justice McCloud was elected to the Washington Supreme Court in 2012. After her year with Justice McCloud, Allison will move to Portland, OR, to clerk for Judge Susan Graber of the Ninth Circuit Court of Appeals. Judge Graber was appointed to serve on the Ninth Circuit in 1998 by President Clinton.
Gregory Buzzard, a citizen of the Cherokee Nation who is currently in his third year at YLS, will be clerking for Judge Jeffrey Viken of the federal District Court for the District of South Dakota. Judge Viken was appointed by President Obama in 2009 and is based in Rapid City, SD. He serves as a trial judge for federal cases arising in the western third of South Dakota, which includes the Pine Ridge Indian Reservation.