Mary Kathryn Nagle Joins Yale to Lead Indigenous Performing Arts Program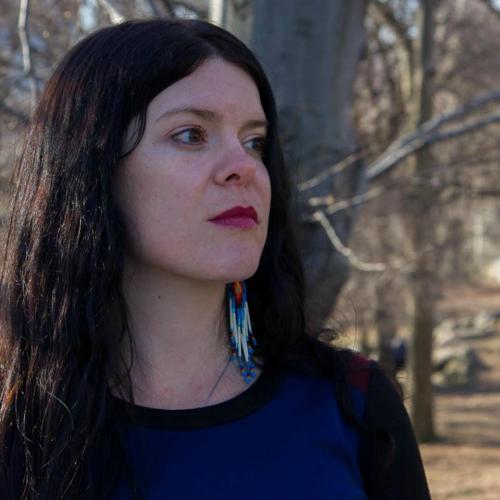 Playwright and lawyer Mary Kathryn Nagle has accepted an offer to become the founding Executive Director of Yale University's Indigenous Performing Arts Program (YIPAP), a co-conceived project between YGSNA faculty, University administrators, and Native American Cultural Center members. This part-time position allows her to work at Yale on a consistent basis. Starting in Fall 2015, Nagle will return to Yale to coordinate student-led performing arts projects, including the September 15th showing of her co-created play, My Father's Bones.  Co-created with Suzan Harjo, this play examines the decades-long struggle of the Sac and Fox Nation of Oklahoma to return the remains of Jim Thorpe to his family cemetery on Sac and Fox soil.  For Nagle, this is her second play performed at Yale, following last Spring's historic production of Sliver of a Full Moon, at the Yale Law School.
Born in Oklahoma City, Nagle is a citizen of the Cherokee Nation of Oklahoma. She studied theater at Georgetown University, and went on to study law at Tulane Law School, where she graduated summa cum laude and was the recipient of the Judge John Minor Wisdom Award.  Her law review articles have been published in five different journals, including the Tulane Law Review and Tulsa Law Review.  Following graduation from law school, she clerked for Judge Joseph Bataillon and Judge Laurie Smith Camp of the United States District Court, District of Nebraska, and then subsequently clerked for Judge Fortunato P. Benavides of the United States Court of Appeals, Fifth Circuit.  She has worked as an associate at a law firm in New York for the past four years, working on litigation relating to structured finance, bankruptcy, qui tam, and federal Indian law.  She has drafted briefs in district and appellate courts, including the United States Supreme Court.  She is currently a Partner at Pipestem Law Firm P.C. (www.pipestemlaw.com)
Nagle is a 2013 alumn of the Public Theater's Emerging Writers Group.  She is the author of Manahatta, (featured in the inaugural PUBLIC STUDIO at the Public Theater (May 2014)).  In December 2014, Manahatta was named a top-three Finalist for the 2014 William Saroyan Prize for Playwriting, and was named the Runner Up for the 2015 Jane Chambers Playwriting Award.  Manahatta is also on the 2015 Kilroy's List. 
AMERINDA produced Nagle's play Miss Lead as an equity showcase in January 2014 at 59e59 Theaters (New York).  Nagle was also a member of the Civilians' Research and Development Group in 2013-2014, where she wrote her latest play, Fairly Traceable.  Her other plays include: In My Father's Eyes, Sliver of a Full Moon (www.sliverofafullmoon.org), Diamonds … are a Boy's Best Friend, and My Father's Bones (a play she co-wrote with Suzan Shown Harjo).  Most recently she was commissioned by Arena Stage (Washington, D.C.).
Before its Yale Law School presentation, Sliver of a Full Moon was presented at the United Nations, World Conference on Indigenous People and the Public Theater's JOE's PUB on September 21, 2014.  Both readings are available to view online via Howlround:  http://howlround.com/livestreaming-sliver-of-a-full-moon-by-cherokee-playwright-mary-kathryn-nagle-sun-sept-21 and http://howlround.com/livestreaming-sliver-of-a-full-moon-a-play-about-justice-for-native-women-yale-law-school-tues-march