Mapping Indigenous Dispossession in the United States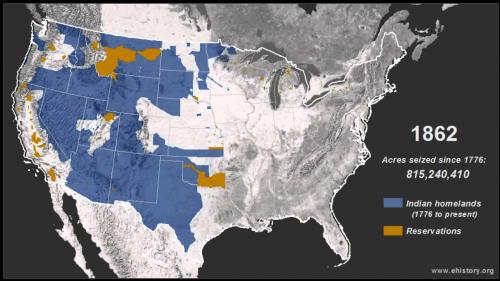 In February, Professor Claudio Saunt visited Yale for a presentation entitled, "Treaties, Borders, Vectors: Mapping Colonial Geography Online." Associate Director of the Institute of Native American Studies at the University of Georgia, Saunt is the author of three widely-acclaimed books, including most recently, West of the Revolution: An Uncommon History of 1776.
Sponsored by the Public Humanities program in the Department of American Studies, Saunt's talk focused on his recent work as co-founder and director of the Center for Virtual History. This Center works to "capture the voices of historical actors not traditionally represented in archives," according to Chronicle of Higher Education, using "projects that map the past and involve the public in analyzing historical data."
One prominent project within this Center's efforts includes "The Invasion of America," an interactive map that visualizes the more than 1.5 billion acres seized from Native Americans by the United States between 1776 and 1887. Released ahead of Saunt's last book, the map went viral, attracting tens of thousands of unique visitors as well as media attention ranging from Vox, Slate, The Washington Post and even the British tabloid The Daily Mail.
Before his lecture, Saunt visited the undergraduate seminar, "Indians and the Spanish Borderlands," and investigated Spanish colonial documents from the late 18th century. Saunt also attended a workshop of the Yale Group for the Study of Native America held at Yale Native American Cultural Center.
In October, YGSNA member Andrew Bard Epstein interviewed Saunt about West of the Revolution for the "New Books in Native American Studies" podcast.