Manahatta Concludes Historic Run at Yale Repertory Theatre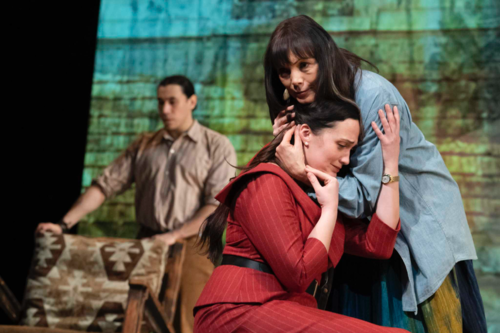 After months of preparations, countless hours of rehearsal, and dozens of performances, Mary Kathryn Nagle's Manahatta ended its successful run at the Yale Repertory Theatre on Saturday, Feb. 15. Manahatta was the first play ever produced at Yale Repertory Theatre written by a Native playwright, and was also the first to feature a majority Native cast. The production of Manahatta garnered wide attendance and acclaim. 
In addition to the seven Native actors cast in the company, the production staff consisted of many Native artists, including the lighting designer, assistant stage manager, Lenape Cultural Consultant, and traditional wampum jewelry designer.  Directed by Laurie Woolery, the play is a historical fiction that takes place in two time periods simultaneously: 17thcentury in Manahatta and 21stcentury in Manhattan and in Anadarko and Chickasha, Oklahoma .
Together, these dual stories examine the centuries-long history of the Lenape people. The play highlights their increasingly violent encounters with Dutch colonists on Manahatta as well as the lives of Lenape family members in Oklahoma and their navigation of the 2008 housing and financial crisis. Using overlapping narratives and playing multiple characters, Manahatta is a tour de force for the actors, one that foregrounds the resiliency of Native communities navigating centuries of colonial intrusions. It is one of Nagle's growing number of plays to be developed and produced by the nation's leading professional theaters, including Arena Stage in Washington, D.C., Portland Center Stage, Denver Center Theater Company, and the Oregon Shakespeare Festival, among others.
Manahatta's three-week run brought unprecedented attention to the Native American performing arts community on campus. Hundreds of Yale students, faculty, staff, and community members attended various performances, which included Saturday afternoon and evenings performances over three consecutive weekends. Students from the Native American Cultural Center attended multiple showings, including the Feb. 7th "Yale Indigenous Arts Evening," co-hosted with the Yale University Art Gallery. That evening was organized in conjunction with the Place, Nations, Generations, Beings: 200 Years of Indigenous North American Art exhibition on view for the 2019-2020 academic year. Over 100 students attended that evening's performance, which was sponsored in partnership by the Yale Indigenous Performing Arts Program and the Yale Repertory Theater. (For more, see link below)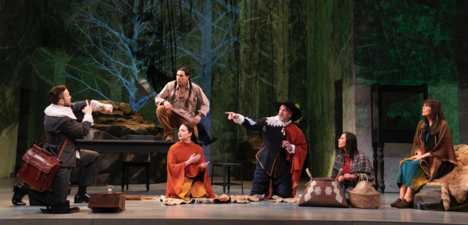 Responses to Manahatta have been overwhelming and favorable. Several campus newspapers covered the production as have regional and national stage media, including the Hartford Courant, New Haven Register,and Broadway World, the latter describing the "impressive" performance as one that examines "the devastating consequences in lower Manhattan as the violent removal of the indigenous Delaware Lenape people in colonial times is echoed by the heartless destruction of the nation's economy by Wall Street four centuries later." The production was also covered by in Spanish by Identidad Latina Multimedia. In his note in the playbill, Yale Rep's Artistic Director James Bundy relays how the play "uproots long-standing myths surrounding the colonization of the lands now known as the United States of America and lays bare a history of policy and practice aimed at the eradication of Native culture."
From 2015-2109, Nagle, a citizen of the Cherokee Nation, served as the founding Executive Director for the Yale Indigenous Performing Arts Program and staged and/or produced over a dozen readings and productions on campus during her five-year tenure, including two plays of her own, Sliver of a Full Moon and My Father's Bones (co-authored with Suzan Harjo). In Manahatta, she uses the story of Jane Snake, a Lenape mathematician who seeks to work on Wall Street after ten years of advanced educational training as a window into the contested histories of violence and exploitation that characterize both Lenape and North American history.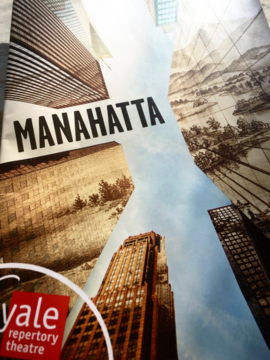 For more see:
https://www.yalerep.org/productions-and-programs/production/manahatta
https://yaledailynews.com/blog/2020/01/29/first-native-written-play-comes-to-come-to-yale-rep/
https://yaledailynews.com/blog/2020/02/12/yale-hosts-first-indigenous-arts-night/
http://identidadlatina.com/wordpress1/resena-de-teatro-manahatta-en-yale-repertory-theatre-por-bessy-reyna/
https://www.courant.com/ctnow/arts-theater/hc-ctnow-review-manahatta-yale-rep-20200203-b6sqxxfbrvclrbznturcceql2i-story.html