Law School Panel Continues Examination of Violence Against Women Act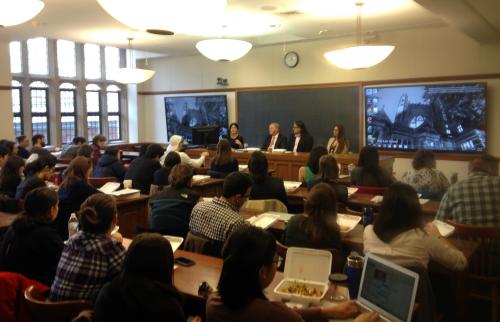 A day after the widely attended dramatic production, Sliver of A Full Moon, playwright and lawyer Mary Kathryn Nagle (Cherokee) joined Judge William Fletcher of the Ninth Circuit Court of Appeals and Lisa Brunner (Anishinaabe) from the National Indigenous Women's Resource Center on a Yale Law School lunch panel. Moderated by Professor Gerald Torres, this session continued discussions about the statutory dimensions of the recent VAWA legislation as well as the jurisdictional complexities inherent to tribal sovereignty.
Attended by nearly a hundred students and organized by the Native American Law Student Association, the session featured extended remarks by each panelist about the law as well as the unprecedented activism surrounding VAWA's passage. Indeed, as Nagle relayed, the outpouring of stories by domestic violence survivors motivated her own involvement and advocacy; she began working on the play before the law was even signed. Brunner provided her own decades-long involvement in domestic violence activism and shared experiences from her own tribal community at White Earth, while Fletcher shared insights about the various forms of limited protection written into the law. He noted, for example, that non-domestic violent crimes are not covered in the statute.
Audience members and panelists also considered the vital importance of federal Indian legal study to broader understandings to American jurisprudence. Professor Torres remarked on how essential Indian law remains in his understandings of federalism, while all agreed on the need for increased pedagogy in law school curriculum. NALSA leaders (photographed here) joined YGSNA members in thanking each of the panelists for their efforts in bringing this production to campus and for their tireless advocacy on behalf of Native American sovereignty efforts.