Jennifer O'Neal and Tommy Orange Begin Busy Spring Semester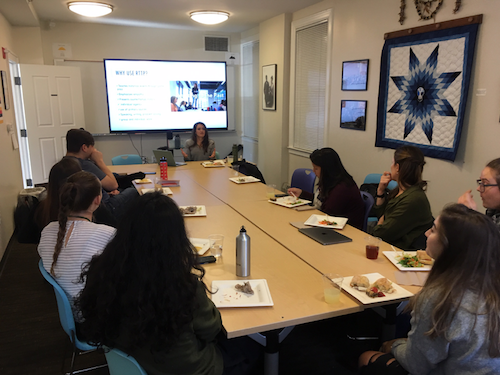 Members of the Yale Group for the Study of Native America (YGSNA) have organized an uncommonly busy semester for 2019. (See schedule below) From the multi-day conference, "Fully Native, Fully Christian" to upcoming readings by Joy Harjo and Terese Marie Mailhot, the Spring 2019 semester includes a wealth of programs, conferences, scholarly presentations, and artistic discussions. It also includes the 4th Annual Native Youth Stelling Festival organized by the Yale Indigenous Performing Arts Program (YIPAP) to be held May 1-4th. All events are free. Noon lunches are held at the Native American Cultural Center and include catered lunches.
The semester has already in fact begun with busy events in January, which ended with two wonderful events. On Wednesday, January 30th, Jennifer O'Neal, the 2019 Henry Roe Cloud Fellow for American Indian and Indigenous Studies and member of the Confederated Tribes of Grande Ronde, provided the opening presentation for semester. (Photo above) The University Historian and Archivist at the University of Oregon, O'Neal is an active member of the UO Native American Studies Advisory Committee, where she teaches, advises, and participates in community activities. Her presentation drew upon her extensive experiences, familiarity, and passion for Native American history and highlighted the increasing use of new forms of "role-playing" pedagogical units in Oregon's Native American Studies Program. On Thursday, January 31st, novelist Tommy Orange offered a college tea at Davenport College and read selections from his acclaimed novel, There, There. A member of the Cheyenne and Arapaho tribe of Oklahoma, Orange followed his reading with a dinner with students, faculty, and staff as well as a reception at the Native American Cultural Center, which hosts regular Thursday "Baking and Bonding" evening gatherings. (Photos below)
 
All are welcome to participate in these upcoming campus activities.
For more, see: