Harvard Professor Dan Carpenter Begins YGSNA's Busy Spring Semester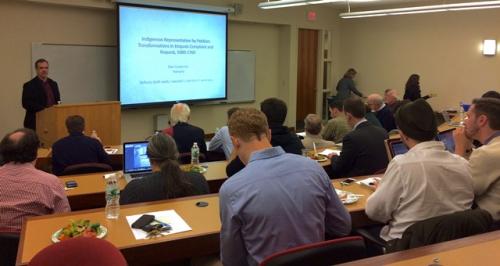 Last month, Harvard University Professor of Government Dan Carpenter began YGSNA's Spring 2015 semester of events with his detailed presentation, "Indigenous Representation through Performative Petition: Transformations in Iroquois Complaint and Supplication, 1680-1760." Co-hosted with Yale's Institution for Social and Policy Studies, Professor Carpenter's visit raised powerful questions about eighteenth-century North American political formation, particularly regarding the extended capacity of Indigenous communities to use political petitioning to address imperial officials. Indeed, Carpenter's excavation of hundreds of both Algonquian and Iroquoian petitions made to French as well as British imperial officials (as well as colonial legislative bodies therein) highlighted the under-recognized capacity of Native communities to not only use diplomatic channels to raise their respective concerns but also to respond to one another through such channels. As he demonstrated in his hour-long address, Iroquoian communities, in particularly, increasingly used petitions to French officials to challenge, correct, and subvert the charges made against them by their Algonquin-speaking western neighbors and often enemies, a triangulation of political analysis largely missing from historical accounts of the "Long Eighteenth Century" as this period is often known.
Before a packed audience, Carpenter's address is one of nearly a dozen organized or co-sponsored events by the Yale Group for the Study of Native America this semester. Scholars, such Phil Deloria and Claudio Saunt, government officials, such as Jodi Gillette and Kevin Gover, and sets of graduate student presentations comprise the active semester ahead, one also highlighted by the first university presentation of the path-breaking dramatic reading, "Sliver of a Full Moon," which relays the tribally-led initiatives that led to the passage of the 2013 Violence Against Women Act (VAWA).
In addition to being the Allie S. Freed Professor of Government at Harvard, Dan Carpenter is also the director of Harvard's Center for American Political Studies where he works closely with the Harvard University Native American Program (HUNAP). HUNAP and Harvard's Radcliffe Institute will be organizing a series of scholarly events and conferences to be held next academic year at Harvard.