Graduate School Recognizes YGSNA Members with New Award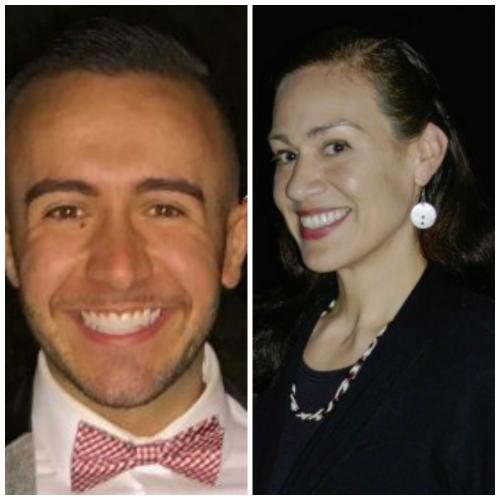 YGSNA doctoral candidates Anya Montiel (American Studies) and Tyler Rogers (American Studies) are among the inaugural class of Emerging Scholars recipients established by the Yale Graduate School and Provost's Office. Drawn from graduate programs across Yale's professional schools, the Emerging Scholars Research Awards (DESRA) have been awarded to ten outstanding graduate students from a range of programs, including Public Health, Sociology, Music, and Anthropology. Designed to increase the number of faculty from historically underrepresented backgrounds, the DESRA program recognizes outstanding research efforts currently being conducted across the Graduate School and funds ongoing professional development, research, and field work.
Montiel and Rogers are each conducting far-reaching research projects. Continuing her longstanding interests in Native American art history, Montiel seeks to revise existing interpretations of the American Indian Arts and Crafts Board, one of the oldest federally-established arts program for Native Americans. Using sets of government documents, personal papers, and tribal records, her dissertation deepens understandings of the complex and ongoing relationships between Native American arts and federal Indian policy, among other areas. The DESRA award is the most recent in a growing list of publications and recognitions that Montiel has received. In 2016, for example, she published a series of essays in the National Museum of the American Indian's American Indian quarterly magazine as well as the "Native American Express Arts" chapter in the Oxford Handbook of American Indian History. She also received a 2016 Craft Research Fund Project Grant from the Center for Craft, Creativity & Design (CCCD) in Asheville, North Carolina which, along with the DESRA award, will enable her to interview regional artists as well as investigate Indian Arts and Crafts Board record held in regional archives in the South.
Similarly, Rogers is working to refashion understandings of Native American enslavement in New England, offering valuable contributions to a range of interconnected fields of inquiry. Informed by his deep engagement with "Indigenous Feminisms"—the name of his well-received course from Spring 2016—Rogers is working to redress the paucity of scholarship on the Indigenous history of New England while also participating in theoretical debates about the nature of settler colonialism. His dissertation queries the processes of Indigenous enslavement that helped to build New England's regional identities and explores not only the fraught struggles by Native peoples to endure the colonization of their homelands but also the difficulties of using archival sources to give meaning to such challenges. Rogers has been invited to present portions of his research at numerous academic settings, including most recently in November 2016 at the inaugural Race, Indigeneity, and Transnational Migration (RITM) Ethnic Studies Conference.
Congratulations to them both.
For more see here