Dr. Patricia Nez Henderson Addresses President's Forum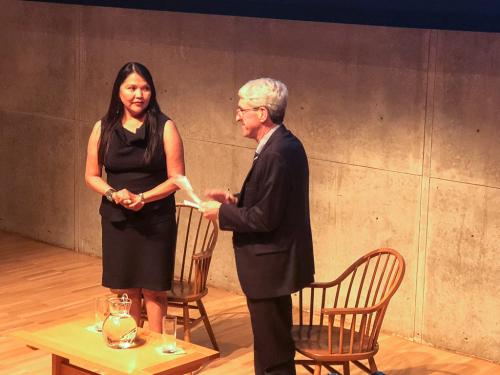 Dr. Patricia Nez Henderson (M.D. '00) returned to campus to speak with President Peter Salovey as part of the President's Women of Yale Lecture series, co-sponsored by the Yale Group for the Study of Native America, at the British Art Museum. Dr. Nez Henderson talked about her work founding the Black Hills Center for American Indian Health after being the first American Indian woman to graduate from Yale School of Medicine in 2000.
Dr. Nez Henderson spoke at length about her work addressing public health issues in tribal communities. Such issues include the challenges of developing suicide prevention research among Native youth in South Dakota. She also discussed her initiatives coordinating tobacco cessation programs for Native youth, particularly within her tribe, the Navajo Nation. President Salovey, with his background in social psychology, inquired about the difficulty of pinpointing the psychological factors incentivizing the use of tobacco in tribal communities. Dr. Nez Henderson discussed how she mobilize the Navajo Nation towards tobacco-free legislation and acknowledged that it is difficult to stimulate change in tribal health policies. Helping people to understanding fundamental health issues is one step, she relayed, and making policy change is another. She summarized her approach by encouraging the active engagement of three major groups: elected leaders; youth; and traditional healers. 
During the Q&A following the discussion, the conversation shifted away from tribal public health issues to the current topics for the Native community at Yale. An audience member asked about the silence from Yale regarding the lack of formal language credit given to the more than ten different indigenous language classes taught every semester at the University. The lack of accreditation for these courses discourages students from learning indigenous languages. Dr. Nez Henderson responded by highlighting the positive impact of increasing indigenous student matriculation at universities across the United States and commented, "once the students are at the universities, they should also be treated well." She also noted the importance of providing dedicated buildings, such as the Native American Cultural Center, where the indigenous language classes take place.
Audience members also asked President Salovey about the absence of female indigenous faculty at Yale University. President Salovey sympathized saying, "this is a major issue that needs to be addressed at Yale." His comment coincided with his public letter to the Yale community—published only hours earlier—announcing the allocation of $26 million dollars to spend on the recruitment of new faculty who "redefine their fields" and align with the university's claim to "remain committed to building a more diverse faculty."
Following their extended conversation, Dr. Nez Henderson, her daughter, and Yale faculty and staff joined the president and members of the Yale community at a private dinner held at the President's House on Hillhouse Avenue.