Allan Downey Delivers Indoor and Outdoor Campus Lectures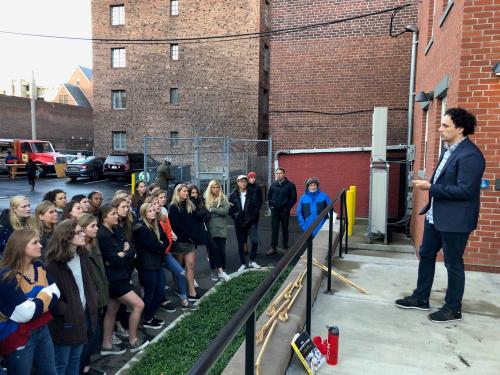 Professor Allan Downey (Associate Professor of History, McMaster University) returned to New Haven on October 29th and 30th and delivered a series of presentations drawn from his new publication, The Creator's Game: Lacrosse, Identity, and Indigenous Nationhood (University of British Columbia Press, 2018). Co-hosted by the Yale Group for the Study of Native America, the Native American Cultural Center, and the Yale Department of History, this was Professor Downey's second visit to campus since 2015.
A citizen of the Dekelh Nation of British Columbia and former professor of History and Classical Studies at McGill University, Downey's work examines the long-standing centrality of the sport of lacrosse to both Indigenous nations and non-Indigenous Canadians. Through prodigious research and creative analysis, Downey recovers the sport's illuminating history and highlights historical processes of Anglophone Canadian appropriation and Indigenous nationalism. As the book details, Canada's "National Sport" arose during the height of the Canadian government's sustained efforts to assimilate Native communities. Its growing popularity among non-Indigenous peoples became, initially, a tool of appropriation by settler Canadians seeking new forms of national identity following Canadian Confederation in the late 1800s.
Downey is the recipient of a series of academic awards, including a 2018-19 Fulbright Fellowship that he currently holds at Columbia University. Recently, The Creator's Game also won the Canadian Studies Network's (CSN) annual book prize for 2018 and has been featured in a wide range of publications for review.
While at Yale, Downey delivered a lecture in History 107: Introduction to American Indian History; discussed the book's methodologies in the seminar, Writing Tribal Histories; and keynoted an uncommon gathering at the Native American Cultural Center. Joined by the Men's and Women's varsity lacrosse teams, Downey provided an outdoor lecture that introduced the gathered sports teams and extended NACC community to the Indigenous origins of lacrosse and its centrality, in particular, to the cultural history of the Haudenosaunee (Iroquois) Confederacy. A former, semi-professional lacrosse player, Downey also relayed his own personal experiences and how his passion for the sport and its history. He noted how 2018 had become a particularly memorable year for the sport and the study of its history. On May 28, the Yale Men's Lacrosse Team won the NACC's National Championship, and Downey and the two teams' captains exchanged gifts in recognition of the events.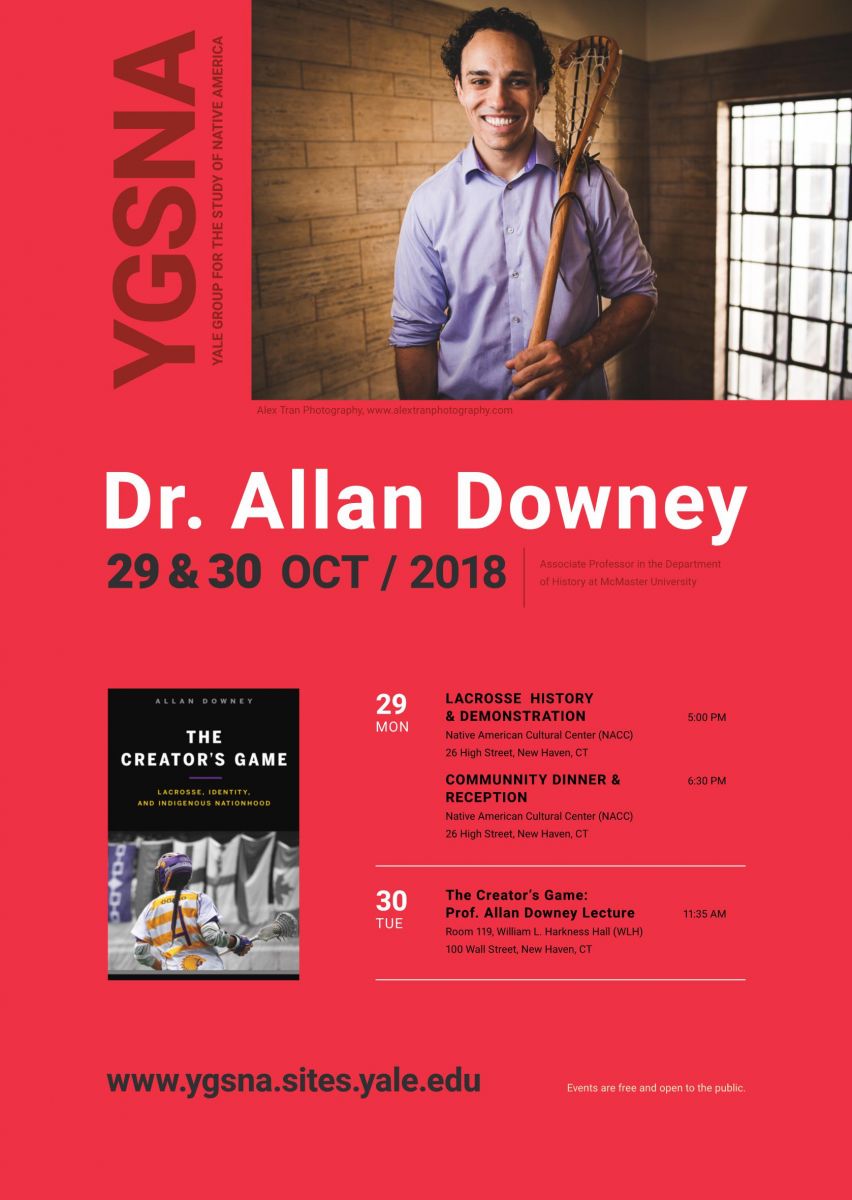 For more, see: