Ali Cobby Eckermann Receives Windham-Campbell Literary Prize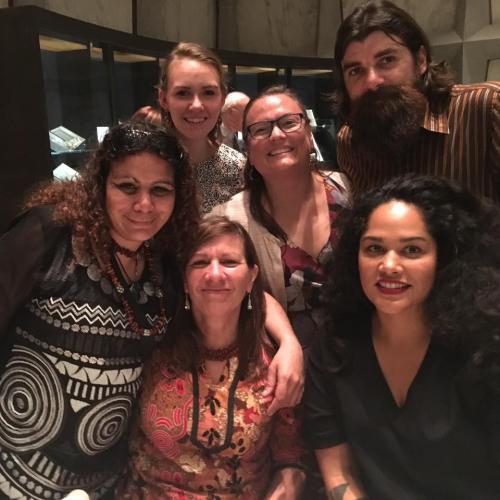 On September 13, Australia's Ali Cobby Eckermann (Yankunytjatjara) received the 2017 Windham-Campbell Literary Prize in poetry from Yale University, one of the world's largest literary prizes. She arrived in New Haven from Australia accompanied by her children, Audrey and Jonnie, photographed above with Dean Kelly Fayard, Katie McCleary ('18), and Natalie Ball (MFA '18). She and spent much of the week in New Haven sharing her work, visiting with students, as well as being welcomed by the Native American Cultural Center community.
            Primarily through works of poetry, Ali Cobby Eckermann confronts the traumas of Australia's Stolen Generations, using language to articulate the often unspoken forms of loss, alienation, and pain accompanying this national policy. Her first collection of poems, Little Bit Long Time, appeared in 2009 in New Poets Series of the Australian Poetry Centre and was followed by prize-winning works thereafter, including the 2015 collection Inside My Mother, which Eckermann describes as an "emotional timeline" of the Stolen Generations, which included thousands of Aboriginal children—among them Eckermann herself, as well as her mother and son—who were taken from their families by the Australian government. Her other works include the memoir Too Afraid to Cry (2013) and the novel Ruby Moonlight (2012), which was named the New South Wales Book of the Year and also won the Kenneth Slessor Prize for Poetry. In addition to her work as a writer, Eckermann is also the founder of Australia's first Aboriginal writers retreat.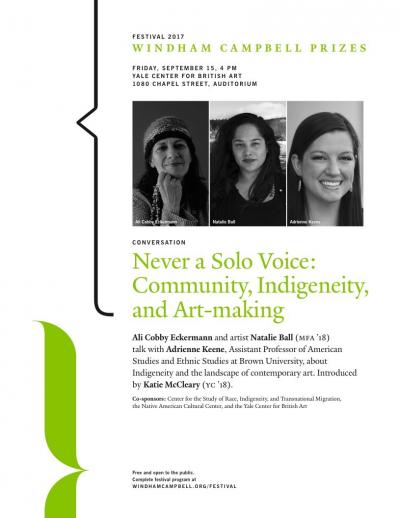 "It was a tremendous honor to welcome Ali to campus," said YGSNA Faculty Coordinator, Professor Ned Blackhawk. "Her warmth and welcoming demeanor really connected with all of our community members, and it was incredible to have her here for so many events. I can't think of a better way to start the year."
Many YGSNA members, including Dean Kelly Fayard and NACC Associate Director Kapiolani Laronal, attended a special welcome dinner at the NACC for Ali who was accompanied by her daughter Audrey and Michael Kelleher, Director of the Windham Campbell Prize and Festival. NACC Members Katie McCleary and Natalie Ball also attended the Prize dinner and participated in one of the festival panels at the Yale Center for British Art, "Never a Solo Voice: Community, Indigeneity, and Art-Making." They were joined by Ali and Professor Adrienne Keene from Brown University. As Kelleher shared, "Ali was overwhelmingly grateful for the welcome she received at the NACC, for the generosity of the students, and for the opportunity to talk about indigeneity and artmaking on the panel we put together. It would not have happened without all of your guidance and insight."