Advisory Council Discusses Extensive Campus Holdings in Native Arts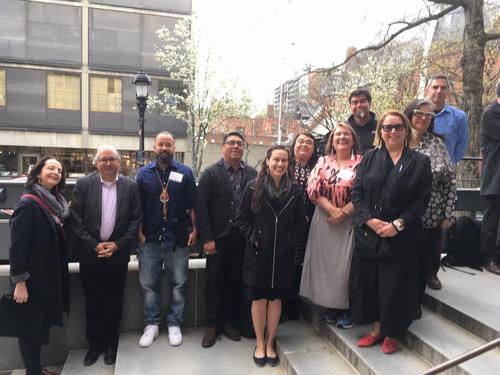 In late April, University faculty, museum leaders, and students welcomed an Advisory Council on Native Arts and Cultures to campus. This eleven-member Council was brought to campus to meet with campus museum leaders and to consult with Native American Cultural Center students involved in the student-led exhibition, Place, Nations, Generations, Beings: 200 Years of Indigenous North American Art.
Organized by Yale student-curators, Katherine McCleary, ('18), Leah Shrestinian, ('19), and Joseph Zordan, ('19), Place, Nations, Generations, Beings represents the culmination of years of planning, curation, and consultation. (See link below) It will be the first exhibition of Native American art at the Yale University Art Gallery (YUAG) and draws upon multiple campus museum and library holdings. It opens in Fall 2019, will run for several months thereafter, and will be accompanied by a Yale University Art Gallery exhibition catalog (also linked below).
The Advisory Council included scholars, artists, curators, and tribal leaders from across Native North America, including leaders from each of Connecticut's federally-recognized tribes: Joshua Carter, Manager of Tribal and Native American Preference at the Mashantucket Pequot Tribal Nation, and Melissa Tantaquidgeon Zobel, Medicine Woman and Tribal Historian, Mohegan Tribe. Additional council members included: Greg Hill, Audain Senior Curator of Indigenous Art, National Gallery of Canada; Joe Horse Capture, Director of American Indian Initiatives, Minnesota Historical Society; Da-ka-xeen Mehner, Assistant Professor, Native Arts, University of Alaska, Fairbanks; Nancy Mithlo, Professor of Gender Studies, UCLA; Anya Montiel, Assistant Professor, Art, University of Arizona; Patsy Phillips, Director, IAIA Museum of Contemporary Native Arts; Jami Powell, Associate Curator of Native American Art, Hood Museum, University of Dartmouth; Jolene Rickard, Associate Professor, Director of the American Indian and Indigenous Studies Program, Cornell University; and Governor Brian Vallo, Pueblo of Acoma. They were collectively welcomed by multiple museum and library leaders as well as by Yale University President Peter Salovey who attended one of the day's opening meetings. The Advisory Council meeting was funded by a grant from The Andrew W. Mellon Foundation and was convened by Ruth Phillips, Carleton University and Kaitlin McCormick, the former Andrew W. Mellon Postdoctoral Fellow in Native American Art at Yale University.
Yale Group for the Study of Native America and Native American Cultural Center members hosted the Council for a community dinner at the NACC. NACC members also offered tours of YUAG, participated in extended discussions about potential reforms to current museum practices, and highlighted the nature of the works to be included in the fall exhibition. Council discussions focused on current efforts to redesign YUAG and Peabody Museum exhibitions; best practices for curating photographic, ethnographic, and historic materials; as well as other strategies for better confronting the often static representations of Native peoples and cultures within museum and institutional settings. Generous assistance for these meetings was provided by administrative leaders, curators, and faculty from the Native American Cultural Center; Yale University Art Gallery; Department of the History of Art; Peabody Museum; and Beinecke Library. As McCleary reflected, "It was incredible to have these scholars on campus with their wealth of knowledge and experience. It my hope that the advisory council ill continue to meet. They will be an essential resource to the Gallery, Peabody, and Beinecke as they move forward with collecting and presenting Indigenous North American art."
YGSNA members also welcomed back former member Professor Anya Montiel (AmStud. '18; GRD) from the University of Arizona School of Art where she has recently completed her first year on the faculty.
For more see:
https://artgallery.yale.edu/exhibitions/exhibition/place-nations-generat…